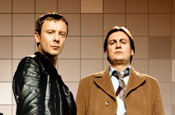 The TV and press campaign aims to portray the newspaper as the best Sunday paper for TV and entertainment.
Allan MacCaskill, the head of brand for the News of the World, said: "We're renowned for our coverage of entertainment and are thrilled to offer readers even greater value by giving them an outstanding newspaper, with one of the most popular series in recent years."
The 30-spot is a parody of the Life On Mars series, the premise of which centres on a detective who wakes from an accident to find he is in 1973.
The spot, "slide", casts a reader in the role of one of the series' detectives as he buys his morning paper, complete with over-the-top action sequence.
The ad finishes with a shot of the News of the World and the endline: "You won't get a better offer this weekend sunshine."
Brothers and Sisters created a similarly themed spot for The Sun to promote its James Bond MP3 giveaway.



Credits
Project
Life on Mars
Client
News of the World
Brief
To promote Life on Mars DVD giveaway with the News of the World
Creative agency
Brothers and sisters
Copywriter
Aaron Willmer and Will Flack
Art director
Aaron Willmer and Will Flack
Planner (creative agency)
Olly Wicken
Media agency
Mindshare
Planner (media agency)
James Crouch
Exposure
TV and Press
Director
Huse Monfaradi
Production company
RSA Films
Editor
Ben Harrex
Post-production companies
Final Cut and Rushes
Audio post-production company
Jungle Studios