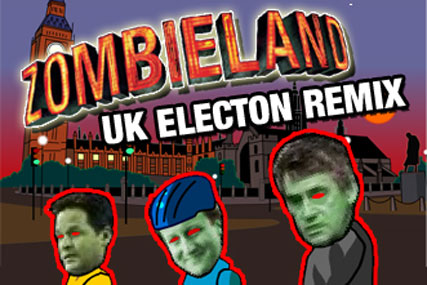 The game has been created following a partnership deal between IPC Media-owned gaming site Mousebreaker and Sony Pictures Home Entertainment, and challenges players to protect themselves from the onslaught of the politicians by attacking them with a variety of weapons.

Along with Brown and Cameron, other political figures featured as zombies include Nick Clegg, Anne Widdecombe, Peter Mandelson and Tony Blair.

Alan Martin, the deputy editor of Mousebreaker, said: "We wanted to build a zombie game and, with voters listening to the same old spin every day in the build- up to the election, we just took the soulless nature of politicians to its natural conclusion to make them truly undead."

Starring Woodly Harrelson and Jesse Eisenberg, Zombieland focuses on two men who have found a way to survive a world overrun by the zombies.

The horror comedy was released on DVD and Blu Ray in the UK last week.