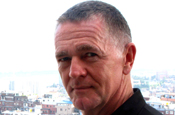 Earlier this morning, Korea-based Cheil announced that it had acquired a 49 per cent stake in the UK agency, which currently tops Campaign's new business rankings.

Samsung is Cheil's biggest client, and Haines confirmed that BMB would now work on the account.

Andrew McGuiness, partner at Beattie McGuiness Bungay said: "There are three things that made this partnership irresistible: the prospect of expanding BMB globally, the opportunity to work with Samsung and a partnership that allows us to look to Eastern as well as Western markets."

Haines said: "We at Cheil are highly ambitious about our future growth plans and were fixed on finding partners who could match that determination and drive.

"We've watched with admiration how BMB has built its UK business and are delighted that we can work with it to build its brand into one that is globally recognized."