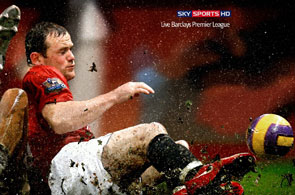 But the satellite broadcaster's HD push meant that marketing costs increased by £37m to £245m year-on-year in the quarter. BSkyB said it had spent an extra £50m this year on marketing HD alone.
The rise in subscriber numbers represents an 8% increase year on year, when customer churn is taken into account.
Revealing a first quarter pre-tax profit of £279m, and a 10% increase in revenue to £1.38bn in the three months to the end of September, the broadcaster now has more than 9.5 million customers for the first time in its history.
The strong demand for Sky+HD was driven by a heavy poster, direct mail and door drop campaign, with 287,000 net additions. This is a threefold increase on the prior year, with the service now reaching 1.6 million households.
BSkyB hasn't solved its churn issue. The number of people leaving Sky rose to 11.3% from 9.9% after an increase in the price of subscriptions.
Numis analyst Paul Richards said the figures for HD were "storming" but that the increase in churn was "a slight negative" and "fractionally higher than we were looking for".
BSkyB's customer acquisition marketing is managed by John Orriss, and retention by Mark Anderson.
Demand for HD channels was also helped by a reduction in the cost of an HD box from £150 to £49 earlier this year.