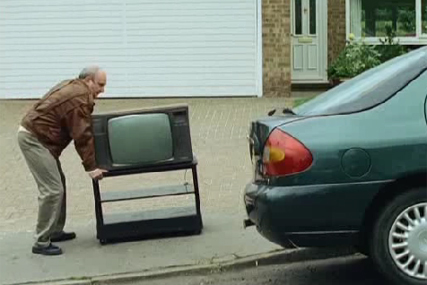 Under European legislation, there is a set limit to the amount of TV advertising that can be broadcast each hour. Sponsorship is not included in this limit and so it cannot encourage the purchase or rental of goods or services.
The Currys' idents refer to the recycling, product-carrying and installation services provided by the retailer. Ofcom said the juxtaposition of the strapline: "Currys, we can help", alongside specific questions, clearly imparted information about the services offered by the sponsor.
Ofcom said the primary focus of these credits was the sponsor's services and not the sponsorship arrangement. The sponsorship message was included in text only and was the least prominent information in the credits.
Sky disagreed, saying the statement "we can help" was simply a generalised statement of fact, and Sky did not consider these words could be construed as either an advertising message or call to action.
The broadcaster also said any reference to goods or services was made to help identify Currys as a sponsor of the programme and to "identify the fact that in certain situations, Currys can help".
Sky believed "Ofcom had confirmed the credits were compliant" because it had sought and been given formal advice on the sponsorship from Ofcom prior to transmission.
However, Ofcom today (22 February) underlined its position as a "post-transmission regulator," explaining that although it offered general guidance on the interpretation of the code to assist its licensees, it remained the responsibility of the broadcaster to comply with the code.
The idents are not allowed to be shown again in their current form.
Currys, part of DSG International, signed up to sponsor 'The Simpsons' from 28 June last year in a deal brokered by media agency Walker Media.