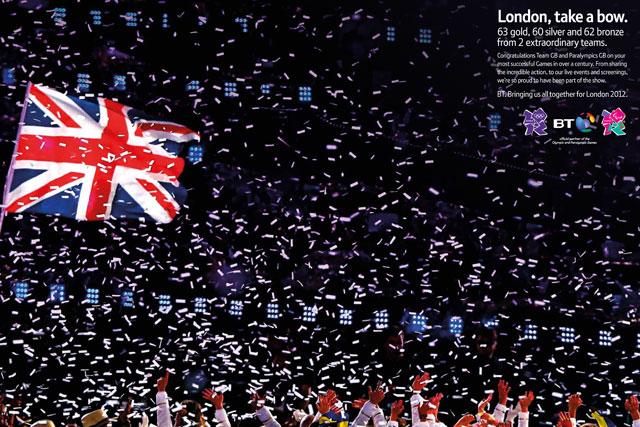 The copy in the double page Metro ad celebrates the successes of Team GB's Paralympic and Olympic athletes, tallying "63 gold, 60 silver and 62 bronze from 2 extraordinary teams".
Single page iterations of the ad are also featuring in the capital's two other free newspapers, City AM and London Evening Standard, as well as the Daily Telegraph today (10 September).

BT's ad is the latest execution by an official sponsor of London 2012 to use the press, which as a media has enjoyed late spend throughout the Games thanks to its quick production turnaround times and positioning around the latest Games news.
Copy in today's ad states: "Congratulations Team GB and Paralympics GB on your most successful Games in over a century. From sharing the incredible action, to our live events and screenings, we're so proud to have been part of the show."
It ends with the strapline: "BT. Bringing us all together for London 2012."
The ads are supported by digital display ads carrying the same theme running across major UK websites, including Yahoo.
BT's media business is handled by WPP's Maxus and creative work by Abbott Mead Vickers BBDO.
Last week, BT's "hola" spot, created by Abbott Mead Vickers BBDO, was judged to be the most memorable TV ad from an Olympic sponsor, according to research by Nielsen.
Capturing the national mood

As the Paralympics drew to a close last night, International Paralympic Committee (IPC) president Sir Philip Craven hailed London 2012 as "the greatest Paralympic Games ever".

He said: "The Paralympic Games have truly come home and found their pathway to the future here in London.

"The Paralympic Spirit which saw its first sparks of life in Stoke Mandeville some 64 years ago has followed a super-charged and surreal existence over the last 12 days.

"This has made the London 2012 Paralympic Games unique and without doubt, in my mind and those of the athletes the Greatest Paralympic Games Ever."

His words were greeted with huge cheers by the 80,000 attending director Kim Gavin's 'Festival of Flame' closing ceremony, including 4,200 athletes.
In his last address at the Olympic Park, London 2012 chairman Lord Seb Coe said the Paralympic Games had set new records every day, including "sporting records, records for crowds, for television audiences, for unbridled spirit".

He added: "In this country we will never think of sport the same way and we will never think of disability the same way. So yes, the Paralympians have lifted the cloud of limitation."
London 2012 Team GB stars Mo Farah, Jessica Ennis and Greg Rutherford will be among those taking part in a victory parade today through central London today from 1.30pm.
Follow @DurraniMix