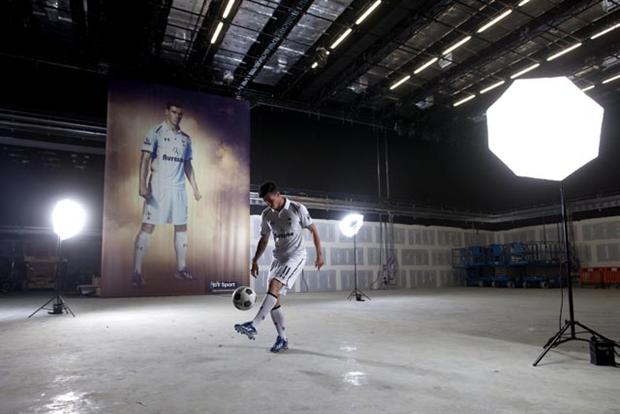 The company has promised to "return sport to grassroots fans" as it revealed, in an audacious move, that BT Sport will be "free" to its existing 5 million broadband customers.

According to sources, marketing executives at the company, led by chief executive Ian Livingston, are preparing to boost annual media spend by £30 million (representing a 30% lift on 2012) this year to help with the launch.

This weekend, BT is believed to have taken out the first five pages and last five pages of every single national newspaper available in the UK.

The press takeover follows televison ads featuring Tottenham Hotspur footballer Gareth Bale and England rugby player Owen Farrell which launched yesterday with the strapline: "BT Sport, Great sport happens here."
Extensive outdoor activity will follow in a campaign that has been created by AMV BBDO with media handled by WPP's Maxus.
The campaign is set to provide a welcome boost for many media owners this summer, as BSkyB is expected to respond in kind with heavy marketing activity of its own. BT marketers will be well aware its satellite broadcast rival has one of the largest marketing war chests in the UK, with Sky among the UK's top spending advertisers last year with a budget of around £270 million.
The new sports channels
BT Sport 1, BT Sport 2 and ESPN will play host to a raft of live sports, including 38 live and exclusive football matches from the Barclays Premier League and up to 69 live rugby matches from the Aviva Premiership where BT will be the sole and exclusive broadcaster.

There will be live football from several other top leagues around the world including Germany, France, Italy and Brazil. There will also be FA Cup ties, the UEFA Europa League, Scottish Premier League plus WTA women's tennis and action from the UFC.
BT yesterday also revealed it has added Moto GP, Women's Super League football, Australian 'A' league soccer and action sport and lifestyle programming from Red Bull Media. In total, the company has committed to invest £1 billion over the next three years in rights, studios and talent for the channels.
Only one in five UK homes currently take a sports channel, possibly due to the high prices that have resulted from there being little real competition. By offering BT Sport for free with BT broadband, BT hopes to appeal to the vast majority of UK homes - more than 20 million - who already have broadband as well as those who haven't taken it to date.

In addition to those who already subscribe to BT broadband, customers with other suppliers will be encouraged to switch to BT Infinity, its flagship superfast fibre product, from just £15 per month or copper broadband from just £10.

The company has promised "switching will be quick and easy", with most customers only needing to make one call to BT. Anyone wanting to take the channels without BT broadband can do so in high definition for £15 per month from BT via Sky's digital satellite platform or for £12 in standard definition.

In its financial results today, BT revealed its pay TV customer base increased by 40,000 to 840,000 in the first quarter while total group revenues for the quarter dipped 2% to £4.785bn.

Gavin Patterson, chief executive of BT Retail, said: "The launch of BT Sport is an important moment for the UK TV market. We will shake up the market which is great news for sports fans whether their passion is football, rugby or any of the other sports we will be showing. Fans will hopefully be cheering across the UK at the prospect of watching their favourite teams for free."
Follow @DurraniMix