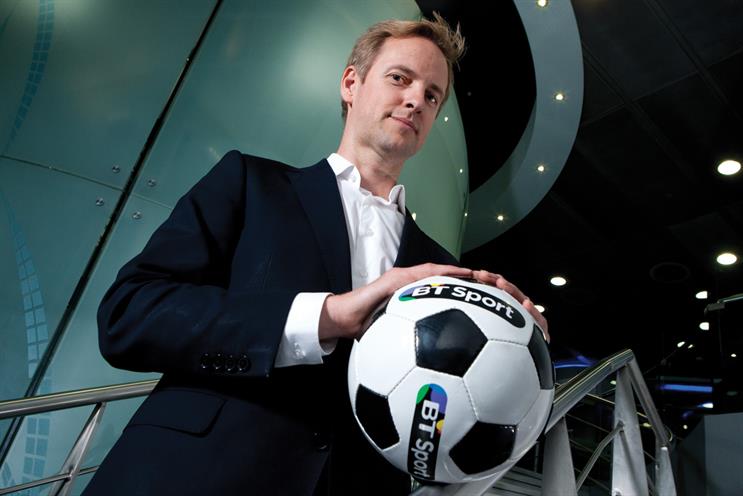 It has been a long summer for David James, the marketing director of BT's consumer division and the man responsible for telling the UK there's a new game in town when it comes to televised sport.
The father of two admits there has been no time for a family holiday this year, when 12-hour days have become the norm and 16 hours not unheard of.
This is what it takes when your company, still one of the UK's biggest employers, decides that, after two decades of erosion in its telephony business and battling for its broadband share, drastic action is required.
The result has been BT Sport and the task of creating a credible sports broadcaster from scratch, acquiring all its TV rights and talent within a year and building Europe's largest purpose-built studio in the Queen Elizabeth Olympic Park.
Overseeing the marketing of BT Sport 1, BT Sport 2 and ESPN "has been the easy part", James reasons: "It has been so busy here, it's brutal."
Now in his fourth year in the role, the one-time strategist at Rapier leaves no doubt that he's still enjoying every moment of it.
"When I started this job, we were the voice of broadband," he says. "Now we're in the TV business, we're in the sport business – it gets better each year. It's a hugely dynamic environment and a fantastic business."
No-one could have imagined back in 1992, when BSkyB secured its first deal with the Premier League for £305 million, that it would lead to 2012's £3 billion bidding war against the one-time state-owned monopoly.
But 20 years of technology advances and convergence in telecoms and broadcast TV have resulted in the two companies aggressively pursuing land-grab strategies in the same "triple play" space – the bundling of broadband, home phone services and TV.
For James, frenetic months behind the scenes started to come to fruition in the final days of the 2012/13 football season with the launch of BT Sport's multimillion-pound ad campaign on 9 May.
Created by Abbott Mead Vickers BBDO, ads told the nation "Great sport happens here", just as Sky was packing up for the summer. James says: "We launched early and surprisingly heavy – there was a lot of angst about whether that was the right thing to do.
"Above-the-line, we think we timed it perfectly. We caught the market by surprise. It affected our share price massively positively – and Sky's negatively as well."
Over the following days, BT shares enjoyed double-digit growth, which the company has not seen in more than five years. "[Due to its timing] We literally had two months when we were the only people marketing sport," James says.
Now we're in the TV business, we're in the sport business. It's a hugely dynamic environment
Underpinning its proposition, and what James refers to as "the masterstroke", is the decision to make BT Sport free to its existing five million broadband customers.
"It's somewhat counter- intuitive that you pay nearly £750 million [for football rights] and then give it away for free," he says. "But, strategically, for broadband and TV, content is at the heart of what mobilises movements of customer bases."
"Game-changing" is how BT wants us to view it, but not everything has run smoothly. James winces at the memory of the meltdown of the BT Sport app during its first televised game and admits: "Tweaks are clearly being made to some of the shows – the launch music [Come Together by Primal Scream] wasn't particularly popular."
Close monitoring of social media is helping James "pick up the vibe really quickly", with the caveat that it all has to be processed carefully: "It's about seeking the great insight from the garbage."
Initial audiences have been respectable, but not game-changing. Its opening match peaked with 764,000 viewers, slightly ahead of its predecessor ESPN's first game last year. It was followed by a more lacklustre 499,000 peak audience for Hull v Manchester City last weekend. BT will be hoping for more from its next top-pick game, Manchester United v Crystal Palace, on 14 September.
Off the pitch, BT Sport Live – the nightly news and debate show with Neil Warnock – has been the biggest draw, followed by The Clare Balding Show. But both are averaging audiences of less than 20,000 – a far cry from Sky Sports News At Seven (1.01 million).
It is early days for BT Sport and the company has made it clear that it's in it for the long haul, having invested in the new stadium site for at least ten years. For James and his 150-strong marketing team, it is not weekly audiences that are top of mind but market share and net additional subscribers come November's financial report.
He has a war chest in excess of £150 million this year and admits most communications currently feature BT Sport. James refuses to comment due to market sensitivities but, over the coming months, there is a real possibility of the company ending years of declining share in its voice base. This could yet be the beginning of an altogether more future-facing BT.