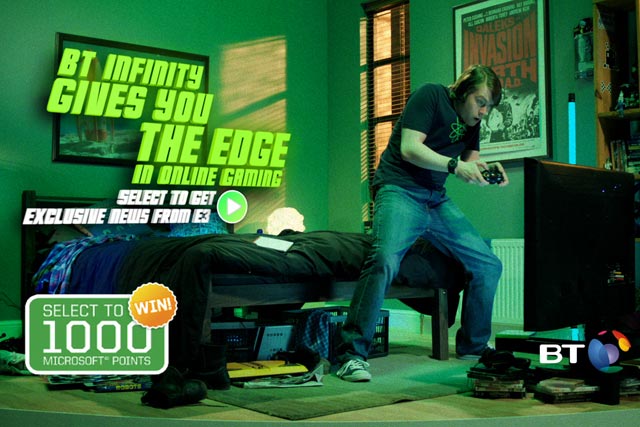 The "branded destination experience" can be accessed from the home menu on Xbox Live and takes users into the flat where Anna, Joe and Simon live.
The "flat 6" experience featuress the three bedrooms belonging to the characters. Each room is based on one of the core benefits of BT Infinity – gaming, music and movies.
For the first time in the UK the branded environment can be rotated using the Xbox controller or hand gesture on motion controller Kinect.
The reach of the activity will be bolstered by BT sponsoring related content, starting with Xbox's own coverage of E3, this week's gaming and technology trade show.
From 15 June to 14 July, the music strand will involve a link from the BT environment to a competition via the music-focused Vevo app on the Xbox Live platform. The Xbox team has also sold BT ads within Vevo's inventory on the platform.
From 15 July to 14 August the movies strand will involve a still to be finalised tie-up between BT and the LoveFilm app.
The BT experience was created by Abbott Mead Vickers BBDO and media planning and buying was handled by Maxus.
Dominic Gains, senior marketing manager at BT Retail, said: "With BT Infinity one of our key objectives is to bring the benefits of fibre optic broadband to life for consumers.
"This platform is perfect for showcasing the benefits of BT Infinity in a relevant space."
Follow Daniel Farey-Jones on Twitter @danfareyjones