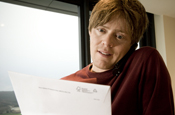 The ad, by Abbott Mead Vickers BBDO, features Adam, played by the actor Kris Marshall, deliberating over whether he should read a potential "Dear John" letter from his estranged partner Jane or tackle a mound of bills.

Rather than open the letter he decides to deal with the bills and finds he needs to make calls to 0845 and 0870 numbers.

Adam is angry that he has to pay more to phone these numbers, but gets a pleasant surprise when he opens a letter from BT informing him that the calls are free.

Buoyed by this good news, he decides to open Jane's letter.

He then calls her and says: "Yes." But there's a cliffhanger – viewers won't find out what exactly Adam has said yes to until the next instalment.

The new ad will be broadcast on 16 January and will be supported by press advertising.

BT announced this week that it is the first UK telephone company to offer free 0870 and 0845 calls to customers.

The move follows complaints from customers unhappy at having to pay extra to call the numbers, which are frequently used by banks and insurance companies as well as NHS Direct and doctors' surgeries.