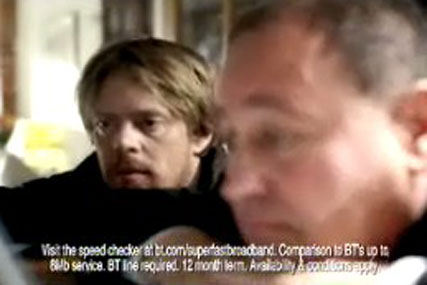 The Advertising Standards Authority found that a TV ad, three radio ads and a press ad were misleading because they claimed BT's 20 meg broadband service would give faster internet access.
In the TV ads an estate agent gave Adam, the recurring BT character, a tour of a new house. Adam was then shown discussing the house with his girlfriend Jane, who was at home on BT Total Broadband.
While Jane was able to load housing websites instantly and visit different pages quickly, the estate agent was unable to show Adam the same pages from his computer, blaming a slow web connection and saying "Six o'clock, half the world's online".
As well as members of the public complaining, Sky, Virgin and TalkTalk challenged the ads. Some people felt that 20 Mbps speeds were unlikely to make surfing any faster than with eight Mbps. Others said the speed on Jane's laptop was misleading because it was faster than could be achieved ordinarily at any connection speed.
The industry complaints said the ad did not make it clear that there were ongoing restrictions on the availability of the 20 Mbps service.
BT argued that the depiction of the loading speed of the website was meant to demonstrate the generic difference between an area with the fast download speeds versus one without , and that it was "reasonable to feature a shortened sequence than would actually occur when using the service due to the nature of TV".
The ASA ruled, however, that this claim, along with others, was in fact misleading.
It said: "The ads must not appear again in their current form. We reminded BT to ensure they held robust documentary evidence to prove all claims capable of objective substantiation."