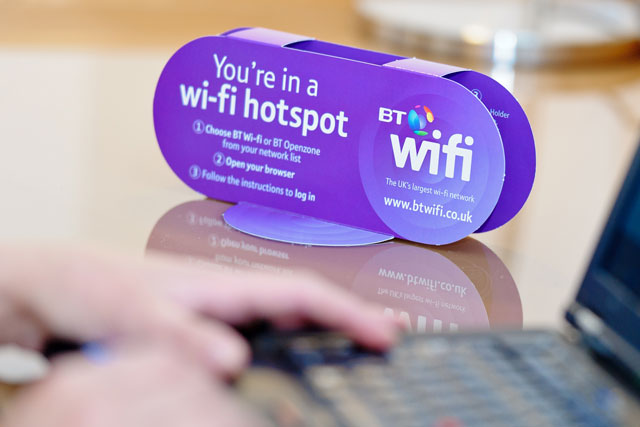 BT Fon is a network of hotspots provided by allowing residential customers to share their Wi-Fi connection with other customers, while Openzone's hotspots are in business locations such as cafes and hotels.
The two brands will be merged under the new identity BT Wi-Fi.
BT has created a new logo that features the brand's white font against a rippled purple background. It replaces both the BT Openzone's open door logo and BT Fon's man with waves logo.
The update is intended to make it easier for customers to find an out-of-home Wi-Fi hotspot.
Andy Baker, chief executive of BT Wi-Fi, said: "We wanted to make things simpler for our customers to make it easier to find a hotspot and get online."
It will be promoting the new brand on its website, though partner websites, point of sale and joint branded collateral on Wi-Fi partners' sites, and signage on its buildings and phone boxes.
It will also be promoting BT Wi-Fi through online advertising.

BT Wi-Fi has more than 475,000 hotspots in London, 30,000 in Birmingham and Leeds, around 21,000 in Manchester and Sheffield, 24,000 in Edinburgh and more than 13,000 in Liverpool, Brighton, Bristol and Cardiff.
Its partners include Starbucks, Welcome Break, Hilton and Thistle hotels.
While BT claims to be the largest provider of out of home broadband in the UK, the competition is hotting up in the telecoms sector.
Virgin Media, which did not previously offer a Wi-Fi service recently stated rolling it out on London Underground, while BSkyB's The Cloud now provides Wi-Fi on Network Rail, First Great Western, Glasgow subway and London Overground stations.
Follow Sarah Shearman on Twitter @Shearmans