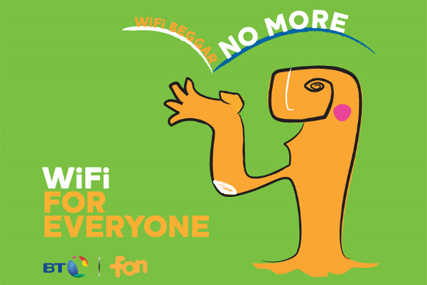 The 'Million Hotspots' activity will include a microsite, emails, direct mail and competitions, including a Twitter-based treasure hunt giving people clues to identify where its millionth Hotspot is.
BT is to make its wireless broadband offering a bigger feature in its marketing campaigns, according to BT Openzone general manager Chris Bruce.
Bruce said: "We're raising awareness of the fact that Wi-Fi allows you to get online where you want to, at broadband speed.
"Going forward we will feature wireless broadband increasingly significantly as part of BT's overall marketing messages for its core products."
BT Openzone is currently running a promotion with Caffe Nero and last year ran promotions with Nokia and laptop brand Acer.
Bruce said: "We're increasingly seeing that we can partner with brands because Wi-Fi is becoming more and more significant."
The company has also struck partnerships with mobile operators around Wi-Fi for iPhone customers. O2, Tesco Mobile, Orange and Vodafone all offer tariffs that include BT Openzone access packages.
BT has previously run a TV ad featuring its Adam character using Wi-Fi access to book a holiday while zipping around town.

The million Hotspots include BT Home Hubs, Business Hubs and broadband access spots available on the premises of BT Openzone partners such as Starbucks, Caffe Nero and Hilton hotels.