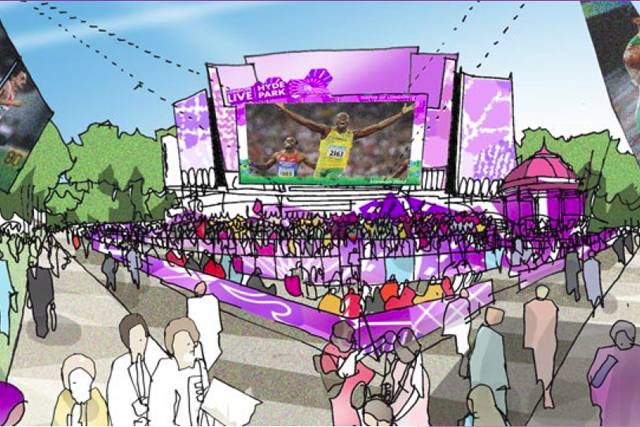 'London Live', which will take place every day of the Games, will also include live music, sports and entertainment events in Victoria Park and Trafalgar Square.
BT signed a deal in 2009 to become the official telecommunications partner of London 2012 at a reported cost of £80m. It is understood to be backing the Hyde Park event at a cost of £150,000 per day. Negotiations for the other venues are believed to be ongoing, with other sponsors, including Lloyds TSB, involved as well as BT.
BBC coverage of the Olympics will be broadcast on big screens in Hyde Park and Victoria Park from 27 July to 12 August, while screens in Trafalgar Square will show Channel 4's Paralympic coverage from 29 August to 9 September. BT and Sainsbury's are joint sponsors of the latter's programming.
Visitors to the London Live sites will be able to try out Olympic and Paralympic sports in participation zones.
Live music from big-name acts will take place each evening. Admission will be free, except for the concerts celebrating the Games' opening and closing ceremonies.
BT declined to comment on plans for the event when contacted. London Live is being held in partnership with The Mayor of London's office, The Royal Parks and Tower Hamlets council. None of these bodies had responded to requests for comment at the time of going to press.