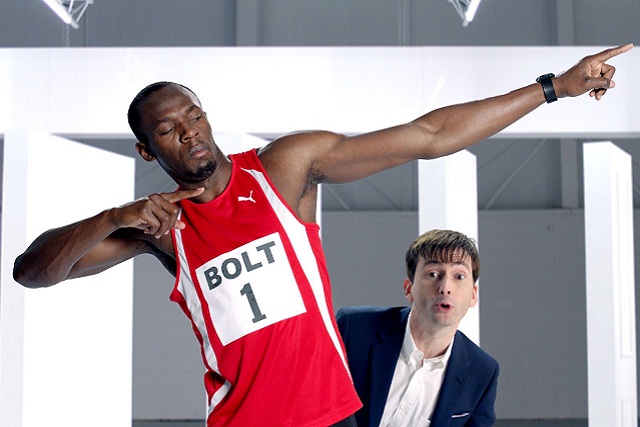 The ASA launched an investigation following six complaints about the Virgin Media ad, which features David Tennant and Usain Bolt promoting the brand's superfast broadband.
The ad – which opens with actor David Tennant saying: "Isn't it frustrating that sometimes you don't get what you've paid for. Like superfast broadband." – prompted BT to complain it misleadingly implied Virgin Media customers always received superfast broadband speeds.
The ad goes on to show a man parodying Usain Bolt's trademark pose, while wearing a "Blot 1" number tag, before the real sports star walks on screen.
BT also challenged whether the ad misleadingly exaggerated the difference in the performances of Virgin Media and its competitors.
However, Virgin Media's response pointed out that at least 10% of customers on their 'up to 30 Mbit/s' broadband service achieved the headline speed and that the average speed across a 24-hour period for customers on their 'up to 30 Mbit/s' service was 30.1 Mbit/s, according to an Ofcom report.
In terms of exaggerating the difference between competitor services, Virgin highlighted that, according to the Ofcom report, the average speed achieved on Virgin's 'up to 30 Mbit/s' service was over 100% of the headline speed, whereas the average achieved on BT's 'up to 38 Mbit/s' service was less than 30 Mbit/s and only 79% of the headline speed.
The ASA stated that "the data submitted by Virgin was suitably robust to demonstrate that they consistently delivered a superfast service to their customers".
Meanwhile, the ASA also ruled that the ad did not misleadingly exaggerate the difference in Virgin Media's service compared with other providers.
"We considered Virgin had demonstrated that they delivered consistent superfast broadband speeds to their customers, whilst a significant proportion customers on other superfast packages did not, on average, achieve superfast speeds, [and so] we concluded that the ad was not misleading on this point," the ruling noted.