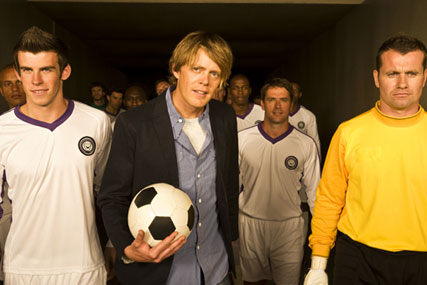 The BT Vision platform offers 10,000 programmes and a library of 600 to 700 films, as well as music videos on demand at a range of different price points. However, it does not currently sell advertising against the content.
Marc Watson, chief executive of TV and online services at BT Vision/BT Retail, said: "Absolutely we will look to offer advertising [for some content]."
He added: "We will not show ads on our children's programming, and our customers want to experience movies without ads. However, we do want to install an ad system and we are very interested in targeting advertisers."
According to BT's results, BT Vision had 467,000 subscribers on 31 March this year, but from today (1July), BT is offering Sky Sports 1 and Sky Sports 2, which it expects will grow its customer base.
When questioned about who would sell the advertising, Watson said BT would probably look to the existing ad sales market for a partner.
Watson said BT could also introduce behavioural targeting.
He said: "What broadband enables us to do is know our customers very well. We know their likes and dislikes and what they want to watch. This is subject to privacy laws, but there are commercial opportunities there."
The average number of subscription views per month, per subscriber, increased 37% in the year to the end of March to 40, and a spokesman for BT said its on-demand services are the third-most watched service for its customers, behind BBC One and ITV1.
BT began selling Sky Sports 1 and Sky Sports 2 today, after Ofcom ruled in March that BSkyB should be forced to wholesale the channels to its competitors at a fixed price.
However, Sky has announced it is to increase its basic package for the two channels from £26 to £29, which will increase the cost of the wholesale price to £19.07 for both channels, £13.42 for Sky Sports 1 and £13.34 for Sky Sports 2.
BT will offer both channels and Disney-owned sports channel ESPN to its customers for £16.99, or £11.99 when they sign up for 24 months, and single channels for £6.99. BT customers also need to pay for a broadband subscription and line rental.
Gavin Patterson, chief executive of BT Retail, declined to set public targets for how many customers it hopes to add. BT Vision's 467,000 customers fall significantly short of the three million target BT set in December 2006.
When questioned about the amount BT will loose by selling Sky Sports 1 and Sky Sports 2 at less than the wholesale price, Patterson said he was confident BT would win the upcoming appeal and the wholesale price would be lowered.
He said: "Most customers buy in bundles with a combination of voice, broadband and TV. Because they buy as a deal, you can't look at one product. It's like if you look back in terms of when Sky launched free broadband.
"We don't see it as a loss leader because you've got to look at it as a package."