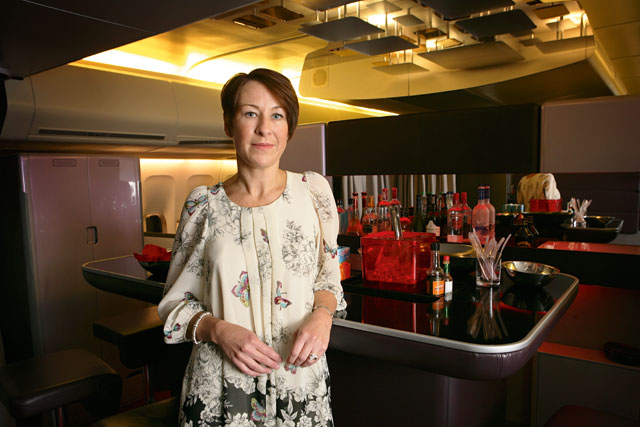 Breda Bubear, Virgin Atlantic's head of global advertising, has some down-to-earth advice for agency bosses who complain of having their profits pummelled by parsimonious clients. "If you think your margins are low,you want to come and work for an airline," she tells them.
Sitting on a bar stool in the mock-up of a Virgin Upper Class cabin at the airline's Gatwick headquarters (where Daniel Craig's James Bond pretended to be living the high life doing some location filming for Quantum Of Solace), Bubear might seem like somebody whose margins are doing much better than merely skimming the treetops.
But the fact is that expense accounts, both for special agents and the frequent business travellers who form Virgin Atlantic's core market, are not what they were.
When the world economy went into a tailspin, many executives found themselves ordered by their companies to fly economy or find other means of communication.
Some doom-mongers claim the business market has gone for good. Bubear doesn't believe that is true, pointing to a revival of business travel in the US as justification for cautious optimism.
But she acknowledges: "We're all having to fish in a smaller pond because, although we've seen a return of business travellers, the volume is not at the dizzy height it used to be."
In many ways, though, nothing much has changed for Virgin Atlantic. Outspent by national carriers in all the markets in which it operates, including the UK where the British Airways marketing budget is five times bigger, Richard Branson's precocious child has always presented itself as a smaller-but-sassier alternative.
"This situation is nothing new to us," Bubear says. "That's why we're always having to develop new strategies that take it into account."
It was against that background that the airline culminated a review of its marketing strategy with new advertising last autumn that laid down its marker as a global brand.
The initiative - part of a £30 million global marketing spend that Bubear hopes to maintain for the foreseeable future - was spearheaded by a blockbuster TV spot with a surreal take on the Virgin Atlantic flying experience. It also sums up the airline's combative approach with the strapline: "Your airline's either got it or it hasn't."
"At the end of 2008, we saw, as did everybody else, that business was dropping off a cliff," Bubear explains. "We knew we had to be more efficient and effective as a brand. Part of that was a more global approach to marketing with our customers at the centre of it."
The plan was driven by the airline identifying the common factors linking its passengers. "Wherever they are in the world, they all travel internationally - both on business and for pleasure," she adds. "They're early adopters of technology and they like to try international brands, but they don't choose the brands that their parents chose.
"That's given us the confidence to behave as a global brand but without the need for lowest common denominator advertising. So we had to have a message that's as relevant in the US, Australia and South Africa as it is in the UK."
The strategy was refined by a combination of new advisors and long-time marketing partners. The newcomer was BSG, a brand consultancy headed by a couple of former Nike senior marketers.
"It was very important to get their insights because I'd never done anything like this before," Bubear admits. "How would we work as a team? What might the pitfalls be?"
To bring the campaign to life, Virgin Atlantic chose to draw on its existing relationships with the ad agency Rainey Kelly Campbell Roalfe/Y&R and OMD, which handles the airline's media planning and buying account. Virgin was a founding client of RKCR/Y&R 17 years ago, and the link with OMD, through Manning Gottlieb OMD, stretches back even further.
"We've all grown up together," Bubear says. "What's more, we've a lot in common as companies. People may change but there's something in our DNA that we all share."
Bubear needed no convincing that RKCR/Y&R had the creative credentials for the job, only that the Young & Rubicam network would be able to service the business in the markets where the ads were to run.
Indeed, it was RKCR/Y&R that produced the well-received "still red hot" campaign celebrating Virgin Atlantic's 25th birthday as well as helping pull in more economy class customers via its "halo" effect.
Bubear claims it delivered £80 million worth of incremental revenue in 2009 and created an avalanche of interest. "People kept asking us where we sourced our 80s gadgets and how we recreated Gatwick as it was at that time," she laughs. "One elderly lady wrote to say how much she would have loved being one of our cabin crew!"
Going global means that Virgin Atlantic's advertising will need to be more flexible and adaptable to Japan's leading-edge technology as it is to the Caribbean's less developed media, Bubear believes.
As a result, she's a constant traveller, meeting regularly with her teams across the world and getting first-hand reports on local markets. In fact, her passport had to be replaced within 17 months because every page was filled with stamps.
"It's this knowledge that differentiates us," she argues. "But the only way you can get that experience is to go and see for yourself."
Bubear is also starting to communicate with her core market by social media. The airline has set up Virgin Swingers. It's not as racy as its name implies; it's a virtual league of 10,000 golfers. "Business travellers may not play rugby or football now, but they love golf," she says.
For the most part, though, it's about "testing and learning as we go" and perfecting the skills of "social listening". She adds: "It's important to know what people are saying about us even if they're not necessarily complaining."
With a limousine to whisk them to the plane and an on-board bar for the flight, what's not for business travellers to like? Not much, it seems. "We've done well in maintaining our share of distribution," Bubear says. "But these people have a choice. We just have to make sure that choice is us."
THE BUBEAR LOWDOWN
A flying start
Having been with Virgin Atlantic for almost 22 years, it's no exaggeration to say that Breda Bubear is in for the long haul. Or that the airline business is in her blood. The daughter of a one-time head of customer services at British Caledonian, she'd already been to Disneyland in Florida by the age of nine. "That's not unusual for kids these days - but it was pretty rare then."
About a boy
An early passion for travel was matched by her love of economics, which she studied to A-Level and was due to read at university. Why didn't she go? "Well, there was this boy ..."
The hottest tickets
Instead, she won a place on a two-year management course sponsored by the travel company Jetsave. An 18-month stint at its East Grinstead headquarters ignited her interest in marketing, and the then upstart Virgin Atlantic. "Jetsave was allocated 50 seats on Virgin Atlantic flights to Orlando and Miami and they sold like hot cakes," she remembers. "I thought that they must be doing something right."
Going global
Her first job as a member of the Virgin Atlantic marketing team was responding to Richard Branson's "ideas cards", which passengers were invited to fill in. Her rise through the ranks resulted in her promotion to become the head of advertising and communication in 2000. She took on the global role two years ago.