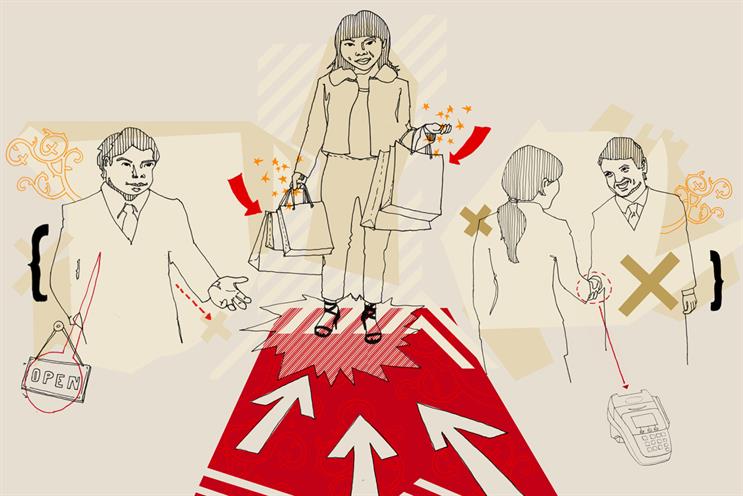 There's nothing like a budget to focus us on our bank accounts, and evidence shows Brits are working like never before to make the pounds in their pockets go further.
People living in the UK are resigned to having to tighten their belts for the next three years and they are becoming more proactive about it the further into austerity we get.
In 2010, when the Government's spending review and subsequent cuts were first introduced, our Opportunity In Austerity research uncovered a range of coping mechanisms that people deployed to help their money go further. They were: stopping or delaying purchases; consuming less of a product; managing costs through discounts and offers; and trading down. People were being smart by accumulating and redeeming points, prizes and linked offers, swapping by using a different means to achieve the same aim and buying small treats to reduce the feeling of deprivation caused by the other behaviours.
These are still very much in use today. However, in our latest wave of austerity research, we've noticed a new coping strategy that is taking hold: good old-fashioned haggling. More than half of our latest sample said they had recently started or intend to start bargaining. This isn't just about comparing prices; it's about actively negotiating, driving down prices and asking for free extras.
In fact, it was only the youngest and oldest in our sample who said that they would not haggle (20 per cent in each of the oldest and youngest age groups said they would never haggle). So much for British reserve around the issue of money.
Utilities, pay-TV, broadband and mobile phones scored top among the items that people would actively seek bargains on. But finding a good deal applies to all sectors. We all need to be prepared for growth in the number of shoppers treating their wallets like corporate budgets and sending in the procurement guys. You only have to watch Channel 4's Britain's Secret Shoppers to see viewers being coached on bagging bargains.
It doesn't end there. With our budgets stretched, 44 per cent of us told a 2012 Warc survey that we spend more time selecting and comparing purchases than ever before – turning the UK into a nation of professional shoppers.
Of course, this is made a lot easier by technology. Apps such as BuyVia put pricing information in the palms of US consumers so they can have more informed discussions with store staff. And that trend is set to escalate, with 70 per cent of the same Warc sample saying that they would welcome real-time price-comparison services.
But if everyone is focusing on bargaining and getting the best deal, does this mean the end of brand loyalty?
The answer is no. And yes.
It's no because consumers say they want to be rewarded for their custom more than ever. As much as 63 per cent of our sample said that being rewarded for loyalty to a brand was the most important way that companies could help in the current economy.
However, it is an end to loyalty in the shape we're used to. Research into retail loyalty shows a growing dissatisfaction with some current programmes. Around 60 per cent of shoppers collect points on their shopping, but only 40 per cent ever redeem them. Carrying a card in your pocket doesn't mean you're actively involved with the scheme or the brand that provides it.
It's not all doom and gloom, though. There are certain categories that consumers refuse to trade down on and those, perhaps unsurprisingly, change with age.
The average 16- to 24-year-old would rather economise on food than their precious mobile phones. As people age, it's their cars, in-home entertainment and trips abroad that they want to protect.
In sectors such as coffee and fresh food, people are even willing to pay more in exchange for better quality.
Loyalty to brands is changing as consumer behaviour continues to evolve and adapt to the economic environment. However, what's really interesting is that it looks like the coping strategies that are being adopted are here to stay. Even once our economy returns to growth (the end of austerity is currently predicted in 2018), all the signs are indicating that, by this time, consumers will have changed for good.
Brands will have to work much harder to retain a consumer who is acutely aware of the value of the pound in their pocket.
Our challenge is to understand and redefine what value and quality mean to our audiences and reflect this not just in communications but also in the entire product and brand experience.
Marco Scognamiglio is the chief executive at Rapp