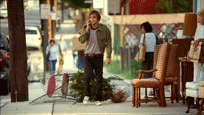 Euro RSCG London and roster shops Rainey Kelly Campbell Roalfe/Y&R and DDB London will battle it out for the brief.
The pitch is scheduled to begin in September with a result expected early next year.
The decision to review the business has been taken as the company attempts to bring clarity to its UK marketing communications.
At present, there are a number of disparate campaigns running for the main brand as well as for brand extensions like Bud Silver.
The review also marks the first time the UK office has been given the independence to find its own agency.
Historically, the US head office has dictated any advertising decisions and the main brand work has been carried out by DDB, the company's global network agency.
RKCR/Y&R, which was added to the roster in January 2004, creates work for Budweiser's sponsorship deals. Last summer, the agency created more than 30 idents for its sponsorship of the 2006 FIFA World Cup on ITV. The executions contained two American football commentators, called Brad and Hal, who were posted in England to report on the competition.
RKCR/Y&R also created Budweiser's latest work, the Bud Bucks virtual currency campaign, with the integrated agency Inferno. This allowed consumers to build up virtual money that could be spent on items such as holidays or football tickets.