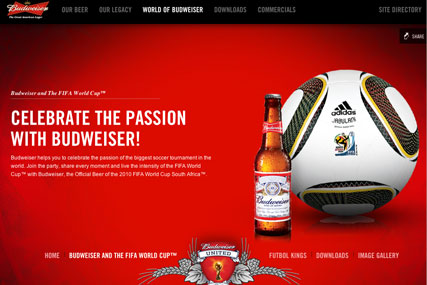 The research measures the number of UK internet searches for brands with sponsorship links to the World Cup.
The Experian Hitwise data shows that Budweiser, which is an official FIFA World Cup sponsor and sponsor of the US football team, witnessed a 25% uplift in UK searches in the week ending 19 June, compared with the previous week.
Kia, which sponsors the Slovakian team, ranked number two, up 13.2% from the previous week. The car brand was joined in the top five by Westfield, the shopping giant, (up 12.7%), Vodafone, which sponsors Greece, (up 11%) and Addidas (up 10%).
But beer brands endured a tough week. Heineken fell 42.9% on the previous week, while Carlsberg slumped 50%.
Hitwise pointed out that those brands that performed strongly in the week were sponsors of some of the weaker teams in the World Cup.
Overall, technology brands perfomed strongly. Robin Goad, research director for Experian Hitwise, said that the strong performance in the technology sector had not impacted on searches for individual products.
He said: "Sales of televisions were expected to surge on the back of the World Cup, but last week's searches of television were down 14% compared to last year. It would seem to be the mobile phone brands Vodafone and T-Mobile that are boosting the performance of this category."
The data also found that vuvuzelas were searched five times more often than England star Wayne Rooney, who was England's most-searched-for player.