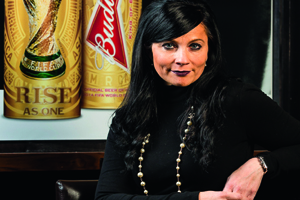 The brand's globally unified ad campaign, Rise As One, is all about celebrating the moments that unite and inspire fans of football around the world, and launched earlier this year.
Speaking to Event magazine, Jennifer Anton, Ab InBev's marketing manager for its Budweiser and Becks brands, said the campaign is aimed at encouraging the UK and the world to 'Rise as One', to get together with friends and celebrate, and to share a Budweiser while they watch and wonder what will happen.
Viewing parties are being held throughout the tournament at Riley's Bar in Haymarket, central London, with the entire venue devoted to bringing the World Cup experience with Budweiser to life.
Anton said the brand has also provided kits to other retailers and hints and tips guides on how to deliver their own World Cup viewing events and ensure they become destinations for watching the tournament.
Last month, the brand unveiled two World-Cup themed experiential campaigns. The Budweiser Challenger, which runs throughout the tournament, is an in-store theatre experience running in supermarkets and tasking consumers with collecting as many branded balls as possible in an allotted time.
The brand has also created a Chilled Exchange Truck, which will be placed at the front of selected Asda and Sainsbury's stores before the first England game on Saturday 14 June. Brand ambassadors will be on-hand in stores to encourage consumers to swap packs of beer for a chilled pack, ready to share at parties with their friends and family that evening.
To read more about Budweiser and how the brand is using football and music to reach out, don't miss our interview with Jennifer Anton in the June issue. You can get it by subscribing here.
Keep up to date with our latest sport news on our dedicated Sport channel, and on social media via the hashtag #EventSportnews.