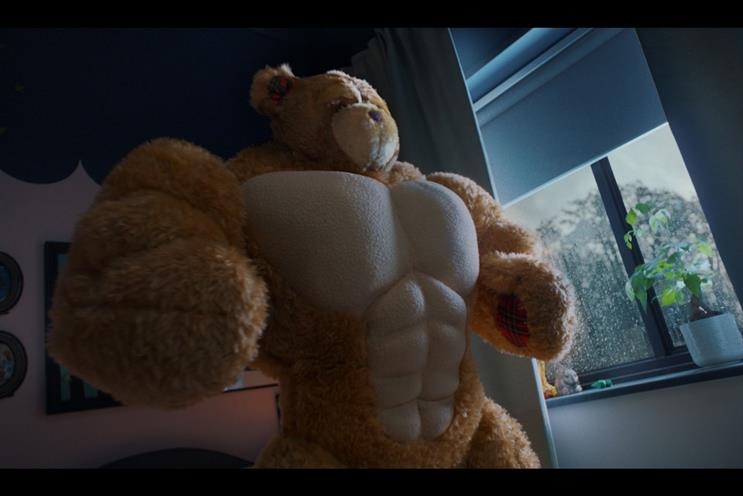 Home as haven, home as your castle...we've seen it portrayed in so many ways in ads over the years. But never with buff teddy bears acting as huge protectors.
The left-field idea from Mother London came to life in its "Every home should be a haven" ad for IKEA - and has now been voted by creative peers in the Thinkbox Academy as the best TV ad to debut in September/October. The commercial beat four others to claim the Thinkboxes Award for TV creativity, run in partnership with Campaign.
Finding a new take on a well-worn concept is such a common creative conundrum. How did Mother approach it?
The brief was to set out IKEA's "democratic mission: to make every home a haven". It's predicated on the belief that, no matter where you live, home should be a place where you feel safe, happy and protected, free from the distractions of everyday life. Whether that's work trying to take over your downtime or the stresses you bring home from your day. 
And the notion that home is a place to hunker down with our nearest and dearest also couldn't have been more timely, and one many will have arrived at over the past 18 months.
Mother's take was to focus on what made the team feel protected in their homes. It brought to mind teddy bears, as they all grew up cuddling teddies to make them feel safe and secure. They then took this simple association to the next level by having buff bear bouncers defend a family's home, ensuring nothing disturbed their soft-furnished haven. 
Things then became a whole lot less simple. Creating super sized, super stacked teddy bears and their anatomy took some serious thought and time, the Mother team admits. "We also spent a lot of time crafting the moments of protection in the film and figuring out how to do them in a way that landed the idea but also felt really playful and charming. For instance, why just hang up on an unwanted work call when the bear could crush the phone to smithereens? That's much more fun."
The shoot also turned out to be fun, but there was no denying its ambition, with lots of moving parts. Complicated rig set ups, teddy suits and post-production considerations necessitated a good number of takes. The teddies' bodies were suits worn by actors but the heads were created later in CG. In post-production, Black Kite worked to create realistic heads that blended seamlessly with the teddy suits, as well as bring out the charm and personality in the teddies' faces. 
A combination of filmic visuals and a sense of humour from director Tom Noakes at Prettybird "felt right for IKEA" and is something that particularly impressed Thinkbox Academy member and Saatchi & Saatchi executive creative director Frankie Goodwin. She said of it in her review of shortlisted ads for this award: "Gorgeous cinematography and playful scenes. IKEA continues to build a modern, influential brand platform that inspires everyone to think of their everyday lives as a fantastic adventure."
TV really played its pivotal part in achieving this, the Mother team believes. "TV is where IKEA set out its strong point of view on everyday life at home and the importance it plays in everyday life.  It's where we inspire people to think differently about the home, not just for different's sake, but because of the big emotional benefits it can bring to their lives. It's also an opportunity to really revel in the wonder and magic that endears people to the brand." All of which hangs neatly on the Swedish retailer's "The wonderful everyday" tagline.
For the Mother creatives, there's pride in cracking the brief with originality. "It's tough to create something that feels genuinely new and original, as so much has been done," they acknowledge. Even better, the buff bears have been a hit and their ripped abs have been attracting admiration. It's hard enough to get an ad talked about these days, they note. And when your ad becomes part of the conversation among people outside of the ad industry, you know you've hit a home run.
Second in the September/October Thinkboxes was "Know yourself" by Fold7 for Coppafeel!. "Dun your way" by Creature for Dunelm was third. Also shortlisted were "Sticking together" for Bisto by McCann London and "Balloon" for Ladbrokes by Neverland.
WINNING AD
Agency: Mother

Creative team: Mother London

Client: Kemi Anthony

Production company: Prettybird

Director: Tom Noakes
The Thinkboxes, in association with Campaign, are the only bi-monthly awards that celebrate the UK's world-beating TV ad creativity, in all its forms. They are judged by the Thinkbox Academy – advertising and marketing luminaries who have been involved in award-winning creative work for TV.
Want to see more great work? Head to the Thinkboxes hub
Thinkbox is the marketing body for commercial TV in the UK, in all its forms. Its shareholders are Channel 4, ITV, Sky Media and UKTV. Thinkbox works with the marketing community with a single ambition: to help advertisers get the best out of today's TV.