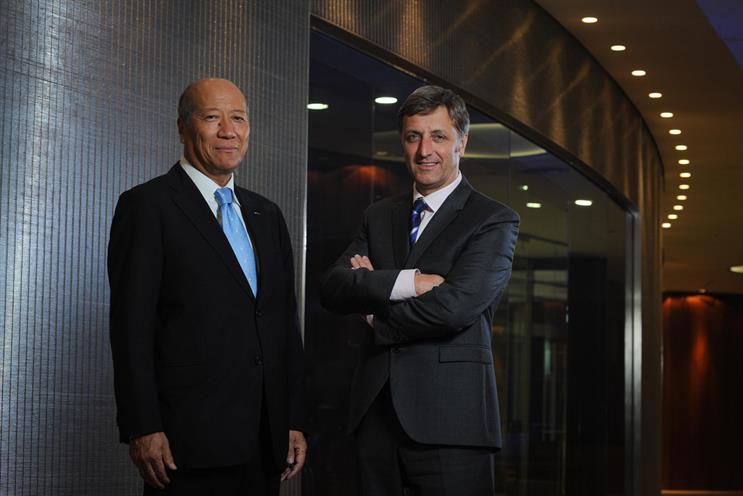 Speaking after the completion of Dentsu's delayed takeover of Aegis Group this week, Buhlmann claimed it was the only holding company to offer "the true competitive advantage of a global network" as none of its rivals has a strong presence in Japan.
Despite the size of the deal, Ian Whittaker, Liberum Capital's head of media research, said it wouldn't "make much immediate difference to the wider com­petitive environment" as the businesses would be run sep­arately at first.
This deal happens to be the largest transaction to take place in advertising history
The deal will give Aegis clients access to Dentsu's significant Japanese presence and technology capabilities, Buhlmann said, adding that many big Dentsu clients will be interested in working with Aegis agencies. He added: "Dentsu is a very scaled business in Japan. It's very difficult for people to understand from the UK, but they control 40 per cent of the market. They have the biggest building in Tokyo – it's 45 floors."
Tim Andree, the senior vice-president and chief executive of the existing Dentsu Network, has been appointed the executive chairman of Dentsu Aegis Network and will work alongside Buhlmann.
The Aegis agencies Carat, Vizeum, Posterscope, iProspect and Isobar, alongside the data services division Aztec, will remain part of Aegis Media, a separate division run by Buhlmann as the chief executive, alongside his Dentsu Aegis Network role.
Buhlmann said no decisions had been made on whether any of the agencies would be rebranded: "We're day one into this. All those discussions haven't taken place yet and all brands will continue to remain in place for the rest of the year."
Although Buhlmann accepted that Dentsu's previous attempts to expand beyond Japan have not always been as successful as it would have liked, he said this time would be different: "Dentsu has been around since 1903; they take decisions very carefully. They have made the right decision that if they want to grow outside Japan, the best way was to buy Aegis. We're a good geographic fit."
Aegis accepted Dentsu's offer of 240p a share, which was a 48 per cent premium on the closing price the day before the deal was revealed in July 2012. Buhlmann made around £12 million from the transaction. It is understood that there are no earn-outs as part of the deal.