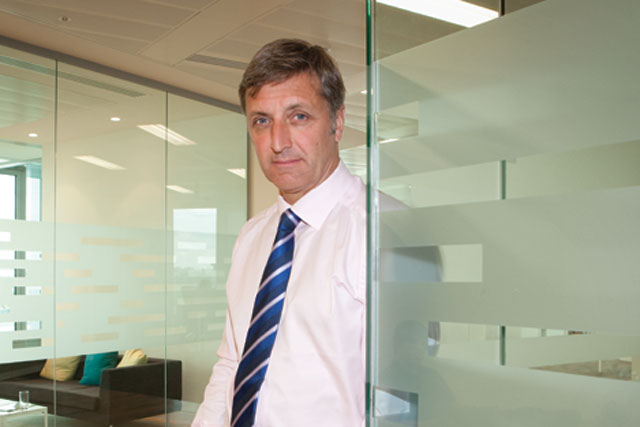 Jerry Buhlmann looks like a man who is tired of speaking to journalists. It's in stark contrast to when we last met the Aegis Group chief executive for breakfast in Cannes. The sun was shining and Buhlmann looked relaxed and well as he sipped his black coffee. Yet his patience now when talking shop with yet another hack is palpably lower than it was with the French waitress who didn't understand the English for poached eggs.
It is the morning of Aegis' half-year results and he is running around the 26 storeys of glass and steel that make up the London Stock Exchange. A presentation with City analysts and a lunch with brokers at Numis, as well as this pesky interview, mean he's a little impatient.
Nonetheless, he fires off his well-rehearsed press-release-style answers at lightning speed, something that could also be attributed to his self-proclaimed "high energy".
While not a raconteur, he's clearly dynamic. He set up BBJ (now Vizeum) in 1989, which he then sold to Aegis a decade later - a shrewd move. First, it made him rather wealthy, and second, it saw him absorbed into a media network where he could grapple his way up the ladder. Starting from the post of chief executive of Carat International, he then jumped to Aegis Media EMEA, then Aegis Media global chief executive in 2008. In March last year, he was promoted to the top Aegis plc job, a spot that had been vacant for 18 months since the departure of Robert Lerwill.
Buhlmann, who credits Peter Scott as inspiration for firing his entrepreneurial spirit while he worked at WCRS in the 80s, has been active in the role. The biggest structural change in the history of Aegis has happened under his watch - the disposal of the global market research business Synovate, currently pending approval. The sale excluded a small but successful scan data services business called Aztec, which Buhlmann says "has synergies with Aegis Media".
Aegis is now a leaner group, focused on media and digital, and with more capital to invest in exactly those areas. Buhlmann - a media man at heart - is clearly passionate about creating a media-focused business. He says a strategy from last year to clean up the Aegis Media brands and fold every global business into either the Carat, Vizeum, Isobar, iProspect or Posterscope networks is paying dividends.
But why did Synovate become redundant for the group? "Synovate didn't become redundant," Buhlmann deflects. "We had a very clear three-year strategy for the business, but Ipsos approached us. The key issue was that there was no real synergies between Synovate and Aegis Media - but we knew there was value in it."
Judging from the interim results for both the total and the retained group, the move seems wise - as it does for Aegis to put all its chips into digital and media. It is clear that more growth lies therein than in market research.
Certainly, it didn't seem hard for Buhlmann to convince the largest Aegis shareholder, Vincent Bollore, of the transaction: "Vincent was extremely supportive of the deal. I think he recognised the benefit to the retained group of a very strong focus on being a specialist in a rapidly changing media and digital environment."
Sceptics might say this comes as no surprise from a man who has previously made it clear he would be interested in a stronger hold on Aegis. In a way, the streamlined group means Aegis is more vulnerable to a takeover.
Buhlmann disagrees with this: "The group's much stronger today than before - not the other way round." And does he ever get tired of people always asking about an Aegis takeover? "It's a bit of a predictable question," he shrugs. "I've heard that question for the past ten years and it hasn't happened. I would say that it's highly unlikely; our shareholders are very supportive of what we do. It's no more likely to happen than it would to any other company."
He adds that if it were to happen, it would have to be "at the right price".
Divesting of Synovate, sold for £525 million, means £200 million goes to the shareholders and the balance into a war chest for further acquisitions, such as the purchase of the Russian outdoor agency Master Ad and the recent takeover of MediaVest Manchester.
"We knew MediaVest very well," Buhlmann explains in his characteristically speedy way. "We knew the managers extremely well and 50 per cent of that revenue comes from digital. It's a very good fit. One part of the business has been folded into Carat, and one into iProspect. We are very happy with that acquisition."
He adds that Aegis has "a very big pipeline" of "smallto medium-sized acquisitions", and that it has "between 50 and 60" in its sights.
As the chief executive of a group that now solely focuses on media, is he concerned by current suggestions that the media agency model is threatened by the likes of Google and broadcasters doing direct deals with brands?
"I think the opposite," he says. "There's a greater need for specialist capability and advice. If you talk to clients, whose business may be making chocolate or cars or whatever, they understand media less and less. I think we're more valuable."
And with that, he departs to go further into the maze of the Stock Exchange for a meeting with that Numis lot and the "curled" sandwich that he predicts awaits him.
THE LOWDOWN
Age: 51
Lives: Chobham, Surrey
Family: Wife, three children and two stepchildren
Favourite media: Television online
Hobbies: Collecting Burgundy and Bordeaux wine
Sports: Running, swimming and shooting
Least patience for ... difficult people