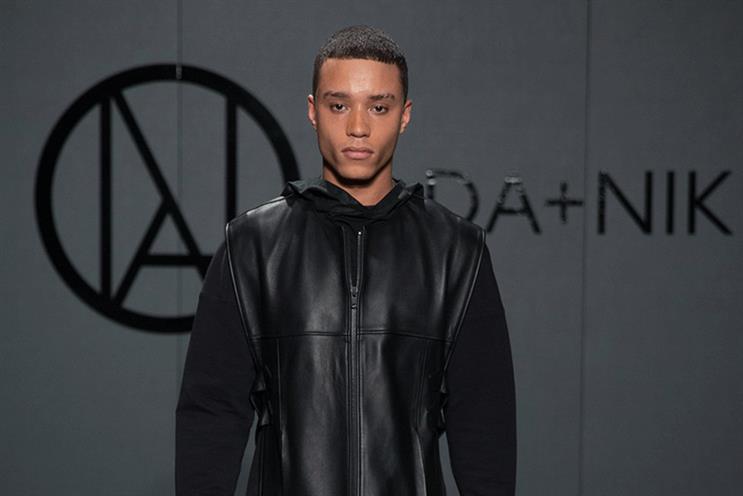 Innovation is an overused word in the creative industry, but menswear design house Ada + Nik, deserves the label.
Despite only having made one full collection last year, the business, which was set up by designer Ada Zanditon and creative Nik Thakkar, secured listings in high end fashion shops, was displayed in coveted positions in shop windows and was photographed on various celebrities including musicians MNEK and Monsieur Adi, athlete Tom Brady and comedian Jack Whitehall.
The demand from the media was so great that Zanditon had to send journalists pictures of the clothes because they had not yet been made.
A large part of the label's success is to do with its approach to marketing. Last year, for example, it sparked media interest when it released a leather jacket with a built-in e-cigarette pocket.
Below, Thakkar discusses three of the brand's most interesting marcoms concepts and shares advice on how to build a brand in the digital age.
Nik Thakkar on Ada + Nik's approach to marketing
Wearable technology
"At the core of it, Ada and I are both futurists. We wanted the concept and ethos of Ada + Nik to deliver something for mankind that evolves us as a species. Technologically enhanced clothing – whether it is through textile technology or wearable technology.
For example, we've been sourcing sustainably intelligent fabrics from around the world such as breathable anti-bacterial sneakernet and hydrophobic memory cotton (which retains shape no matter how crumpled the piece becomes).
We're also really conscious of the fact that over-engagement on social media can affect your enjoyment of the in-situ experience, so we teamed up with tech company Narrative to build a leather biker jacket with an inbuilt camera to allow you to document an experience live without losing the original memory.
It's really one step towards a Black Mirror-esque world equipping human beings with the ability to enhance their physical state of being.
Alternative live-streaming
As emerging designers, it's often impossible to engage in certain levels of marketing activity that major established commercial or luxury brands have the ability to activate. Live streaming is one of these areas. It can cost between £10,000 to £30,000 for a full video deal.
Last season, with the help of digital consultant Taylor Kahan, we partnered with an app called Vyclone – a social video platform that lets you co-create, sync and edit multiple views of a shared moment, effortlessly.
We used the app to simultaneously capture the experience of the show in real-time from multiple different camera angles. We strategically placed five people around the runway to film and capture all of the most flattering angles of our pieces as the models walked the runway.
The process of filming is simple. Vyclone is programmed to detect location so that anyone filming from the app in the same vicinity will have their videos automatically synced with others around them.
Once processed the video is immediately viewable on the Vyclone app, which we then shared across our own social properties, as did Vyclone respectively on theirs.
The video is embeddable and shareable to the public, so we now have an evergreen piece of marketing content that can spread on its own, and the beauty of social media has made it a potentially virally impactful takeaway from our show.
Guerilla in a digital age
Creative rebellion forms an intrinsic part of the DNA of what we represent, so we're always looking for alternative ways to bring our vision to life to audiences that wouldn't traditionally experience Ada + Nik.
This season, we teamed up with photographer Rainer Torrado and Model Nolan Sainte Claire to create a live projection installation in the Belleville area of Paris during menswear week.
This allowed us to create a moment in time, editorial and brand content and an experiential consumer moment for social media at the same time."