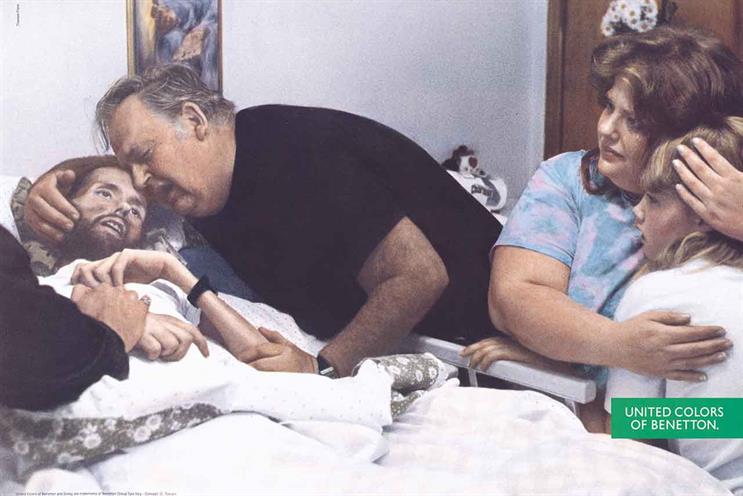 "Benetton has always been a brand with a mission. Sure, we produce and sell sweaters, but we are also an organisation that operates within a society and therefore we carry a responsibility to acknowledge and try to connect with what's happening around us.
In the mid-80s, as the world was undergoing massive transformations and preparing for the fall of the Berlin Wall, we felt that our multicoloured sweaters could become the carriers of an important message: that we are all united, despite differences of race, ethnicity and belief that exist.
United Colors of Benetton became our unique signature; one that anticipated the debate about globalisation and became a worldwide case study for branding.
We've often come under fire for using emotional messages to market our products. Yet we never gave up, both because they really represent this company's ethos and because, through our global campaigns, they can reach many more people than a newspaper article or a blog post.
Here, you can see examples of some of the most poignant and relevant work we've created throughout the years, from the 90s up to the present day.
Fabrica, our communications research centre, has been mostly responsible for the work. The "Unhate" and "Unemployee of the Year" campaigns were created by Fabrica in collaboration with 72andSunny Amsterdam.
We are not surprised that our approach has also had important commercial out­comes. Harvard Business Review recently published an Empathy Index that highlights how companies with a strong culture and the capacity to emotionally connect with their customers are more successful.
Tolerance, diversity, social commitment: we still stand by those values today and we will keep pursuing them, both through our sustainability programmes and our communication campaigns. Last year's global news tells us that the world needs these messages, today more than ever."
Gianluca Pastore is global marketing and communication director at Benetton