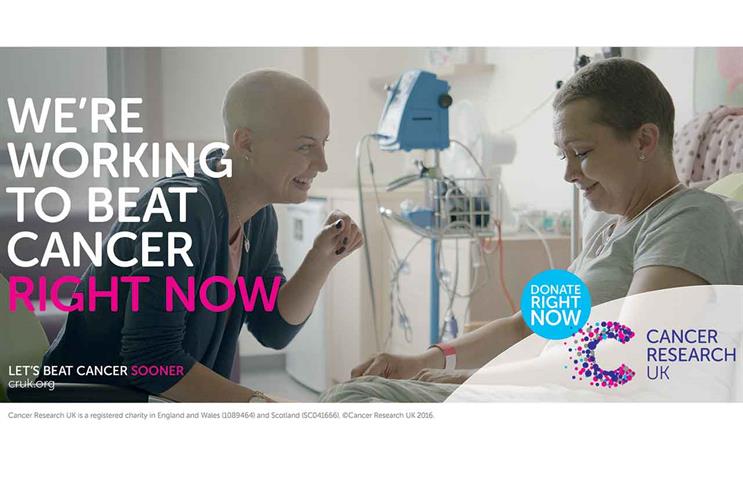 "Cancer. It's an undeniably emotive subject. But, somehow, this doesn't always make it easy to build an emotional connection with our audiences.
Our core organisational purpose is scientific research. At scale. Scientists in lab coats making incredible discoveries that have already helped to double survival in the past 40 years. We've contributed to many of the world's top cancer drugs.
Naturally, the course of this research is slow; it takes years to make a breakthrough, years more to verify the results, put treatments into development and get them into hospitals. So how do we translate this methodical, clinical precision and the amorphous 'big C' into something immediate, tangible and personally relevant?
First, the focus of our most recent campaign has been to show the personal, human impact of our research. We rely on brave individuals who are prepared to share their stories. But, not surprisingly, not all survivors or patients want to be in the spotlight at a difficult time when they are dealing with something so personal. We are enormously grateful to all those who have agreed to let us film them, live, as they heard their test results and diagnoses and received treatment.
Their courage has allowed us to show the public that cancer is happening right now and that our scientists are working hard to beat it – right now. It's a potent idea, yet one that viewers can struggle with. A handful of people don't realise these are real patients – not actors – and that we are sharing their actual life stories. Even when you make it as personal as it gets, the emotional connection can be lost in translation. But for those who do connect with it, it's very powerful. We've seen an exceptionally high level of emotional engagement as a result.
Second, as an ethical and responsible organisation, we need to strike a balance between communicating the devastating effect of cancer and having respect for those living with the disease. We run much of our marketing past a panel of patients to check whether we are overstepping the mark and there have been examples where we've pulled back to respect their wishes, perhaps to the detriment of emotional brand engagement with the wider public. But it's the right thing to do.
A third consideration is that much of our work is inescapably factual, rather than emotive – for example, finding better ways to diagnose and treat cancers early or sharing information to help people to reduce their cancer risk. And, in focus groups, we're often asked to be direct and stick to the facts, and urged not to try to be clever or uplifting around a serious subject.
Lastly, as a charity, no matter how important our work, how much progress we make or how prevalent and indiscriminate cancer is as a disease, we rely on public donations. And the charity market has become more crowded, with more people asking their friends and family for sponsorship.
As charities big and small become more sophisticated as marketers, how do people decide which to support? Which is better – the local charity round the corner that treated your nan, or a national one with big impact? Is it preferable to research disease prevention or to provide palliative care?
And, then, consider how the charity sector and its fundraising practices have been put under the spotlight over the past two years – some people are starting to question their support for all charities. So, alongside building emotion into our advertising, we also have to respond to people's rational concerns.
This year we created a "jigsaw" of ads, each telling a separate part of our story. Individually, the stories are poignant, but collectively, they build a better picture of Cancer Research UK and our work. So, yes, although cancer is an undeniably emotive subject, the challenge we face is for our organisation to stir the emotions too."
Emma Tranter is strategic brand management lead at Cancer Research UK