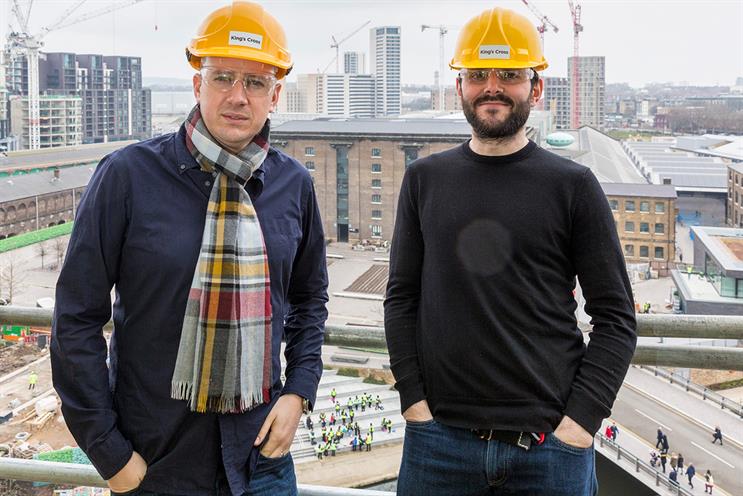 Dressed in yellow hard hats with matching oversized high-vis jackets and clumpy brown boots, Ben Mooge and Andy Sandoz step into what will soon be the new Havas Village in London's King's Cross.
The pair, who became the joint executive creative directors at Havas Creative Group at the end of last year, are in awe. It may still be a building site but there's something about actually seeing what will become Havas Village – given that it has been in the pipeline since 2014 – that gets them grinning like Cheshire cats.
Mooge and Sandoz can't wait to show Campaign's similarly attired correspondent the spacious reception area; the location for the central staircase; a space that will be dedicated to holding talks; and, of course, the views across London.
But, most importantly, they point to Central Saint Martins, the art school that sits directly across Granary Square. This is where they hope to support young designers and attract new talent.
"It's youth culture into the business, a spirit of possibility," Sandoz explains. "If we're going to have any sustainable future, we need to start experimenting with what that future looks like.
"That's not going to come from Ben and me; it will be from the permissions that we create for younger, more diverse minds to flourish with the resources that we have."
The two are eager to show new talent that this is a "chance to be part of a new evolution" and believe no other agency can offer this right now.
The 11-storey building that the students encounter as they saunter off at the end of the day is part of a plan by the Havas chief executive, Yannick Bolloré, to create a collaborative network. In 2017, all 24 Havas agencies in London – including Havas Media, AIS London and Havas Helia – will move into the 165,000-square-feet property.
Bolloré believes this will help creativity thrive and push the agencies to work together to deliver better solutions for clients.
Creativity certainly isn't the first word that springs to mind when the London offshoot of Havas is mentioned. But, with the appointment of Chris Hirst, the former Grey London chief executive, as the Europe chief executive, shifting creative responsibility from Mark Fairbanks to Mooge and Sandoz, and the hiring of Adam & Eve/DDB's Xavier Rees as the London chief executive, it's clear that there's a concerted effort to change this perception.
Whether Mooge and Sandoz have the right background to do it (Work Club, the digital shop they co-founded, was bought by Havas in 2014) remains to be seen. After all, there are not too many successful examples of traditional agencies handing the reins to those from digital shops. M&C Saatchi's acquisition of Lean Mean Fighting Machine shows some of the difficulties involved.
Mooge argues that he and Sandoz are not the same as LMFM, particularly given the ten years he spent at Mother. "I wasn't a digital guy to start with. I learnt next to him," he says, pointing to his partner.
Al MacCuish, the chief creative officer and co-founder of Sunshine who worked with Mooge at Mother, believes Mooge's desire to grasp the digital world makes him a "polymath". MacCuish adds: "He's the perfect combination of optimist, realist and cynic. His great skill is that he understands human behaviour and the truths behind it."
Paddy Griffith, who co-founded Work Club but left the business last month to work with start-ups, points out that Mooge and Sandoz are very strong individually. Sandoz is a classic designer, while Mooge likes to do his best work "down the pub surrounded by writers and always cracking jokes".
Griffith adds that working with the pair is like using a "Swiss army knife – they can cover very different challenges".
Mooge and Sandoz say they have always looked to surround themselves with people who can provide a different skillset. "The philosophy to the creative business is: 'We've not got one of those,'" Sandoz explains.
This is the way they will bring the network together to "wrap the right people around our clients' businesses". Havas London's Heathrow win is a key example. Working with Havas Helia, it picked up the integrated advertising and CRM account amid fierce competition from Adam & Eve/DDB and Rapp.
"It's a pretty disruptive world to have a business in," Sandoz notes. "It's fascinating how corporate social responsibility is coupling up with comms. It's very hard to break the two apart, which I think is wonderful.
"You look at the IT director and the marketing director – they need to be talking because where you find your customer is in a digital environment.
"So all those things are colliding and I think the role of an agency is to use the brand to make sense of that and give it purpose to do something that is just really fun."
Just like the construction workers in Granary Square, Mooge and Sandoz have their work cut out in building a new creative Havas.