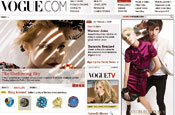 Bulgari will sponsor the homepage for the launch week and Tiffany will sponsor the jewellery section for the first two weeks. Other advertisers include L'Oreal, Revlon, Lacoste, Peugeot, Dyson, Georg Jensen, GHD, Fabris Lane and Gina Shoes.
Conde Nast's online division, CondeNet, plans to launch a raft of new features, including a fashion archive called "On this day in history", plus fashion and beauty news.
CondeNet is also adding interactive functions to the site, including a tool to let users vote for their favourite look from the catwalk, a magnifying tool to examine the detail of clothes pictured on the site and a calendar of fashion events.
Serena Privett, commercial director for CondeNet UK, said the new site would carry five standardised ad formats to maximise advertisers' ROI and allow easier planning of pan-European campaigns.