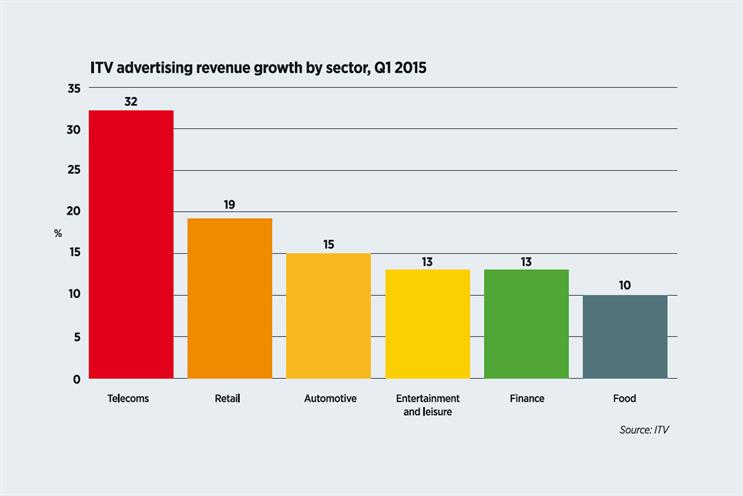 Speaking at an analyst briefing, Crozier said ad revenue at ITV was up 14 per cent in January, 14 per cent in February and will be 8 per cent in March. Growth is expected to continue to rise between 4 and 7 per cent in April.
The chief executive is confident of "another good performance" for the full year but warned of a "different shape" to growth, with 2014's Fifa World Cup coverage making for tough comparisons in the summer.
For 2014, the broadcaster reported a 23 per cent rise in adjusted pre-tax profits and a 6 per cent rise in ad revenues to £1.63bn, despite a 5 per cent drop in the group's share of viewing. The broadcaster's overall share of the British TV ad market was slightly up to 45.9 per cent.
Crozier admitted ITV's ability to deliver big audiences remained "at the heart of our commercial proposition". To help claw back some share of viewing lost to BBC, he committed to an additional £20 million for programmes.
He added: "We want to get share of viewing right but we don't do annual deals per se now. We now have rolling [commercial] deals, so it is a constantly changing set of arrangements, and we can see from the deals we have done that we would expect to outperform the market."
Acknowledging viewing figures released by Thinkbox last week, which showed total average daily TV viewing per person fell by ten minutes and 30 seconds as heavy viewers watched less TV, Crozier remained bullish. He said: "TV's reach hasn't changed one iota. It may have been split slightly differently and fragmented slightly differently, but it's still getting the scale."