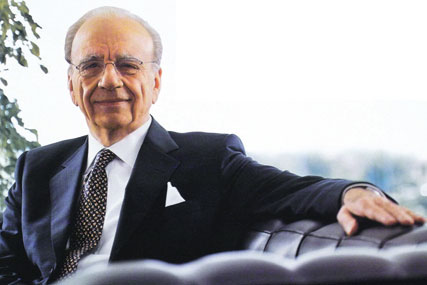 The global media conglomerate's financial results for the second quarter ended 31 December reported net income of $254m, compared to a net loss of $6.4bn in the same period last year.

In the quarter, total revenue increased by 10% to $8.7bn and, excluding one-off litigation settlement charge, operating income was up 44% to $1.2bn

Leading the growth was the group's filmed entertainment, with Twentieth Century Fox film studio posting annual profits up from $112m to $324m.

Chairman and chief executive Rupert Murdoch claimed the group behind James Cameron's 'Avatar', the biggest-grossing film of all time, had emerged as the "pre-eminent content company".

In the UK, revenues at the newspaper business News International, which includes The Times and The Sun, dropped following a 5% fall in ad revenues and 3% slide in circulation revenues. However, savings made from cuts in marketing costs resulted in higher second quarter operating income.

Elsewhere, there was marked improvement for newspaper operations in the US, with Dow Jones reporting 5% higher advertising revenue at The Wall Street Journal's print edition, 17% growth in advertising at The Wall Street Journal Digital Network, and increased circulation revenue and reduced operating expenses.

Total operating income for the group's newspapers and information services were $259m on revenue of $1.7 billion, up from $200m on $1.5 billion year on year.

Murdoch said: "Our strong top-line revenue growth demonstrates that News Corporation is emerging from this recession with renewed vigour and strength. Moreover, our underlying operating trends this quarter far outpace those of the same quarter last year.

"We continue to reap the benefits from the restructuring and cost containment measures we instituted before the downturn began, and I am pleased that our unrelenting focus has translated to growth across our businesses that will reward stockholders for years to come."

Cable television was another strong performer for News Corp, with operating income rising 35% to $604m, fuelled by rate increases from its Fox News Channel affiliates.

News Corp's social networking site MySpace, acquired for $580m in July 2005, continues to underperform, with Murdoch admitting MySpace's is "still not where we want it", despite job cuts and it refocusing on entertainment.

Looking ahead, the media mogul said: "I have every confidence that News Corporation is entering a new period of sustained growth."
More on Brand Republic blogs