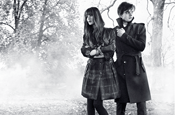 The company is looking for strategic input on how to engage its customers in new ways, including using different media. Its advertising will continue to be created in-house.

It is understood that the company is in the process of seeing agencies for chemistry meetings. The pitch is being handled directly by Burberry.
A spokesman for Burberry said: "Burberry has not sought to and is not looking to hire a creative agency. Burberry is always looking for new and innovative ways to engage consumers and to support its marketing strategy. All creative work will remain in-house, as it always has been, led by our creative director Christopher Bailey."
The company's most recent campaign, for autumn/winter 2008-09, was shot by Testino in Kensington Gardens, London, and featured the British actor Sam Riley and the model Rosie Huntington-Whiteley.

The shots attempt to capture the style of paintings by the British artist LS Lowry.

Huntington-Whiteley was subsequently pictured in The Mail on Sunday with what appeared to be drug paraphernalia.

Its sister paper the Daily Mail later reported that the model had been dumped by Burberry for its next advertising campaign and would be replaced by Eden Clark and Alex Pettyfer.

In 2005, Burberry ended its contract with Moss after pictures of the supermodel with cocaine hit newspapers.

Moss was later reinstated but was eventually replaced as the main face of Burberry by the model Agyness Deyn in March this year.

Despite a grim outlook for many retailers in the current financial climate, Burberry reported a 13 per cent rise in first-half revenue up to 30 September.