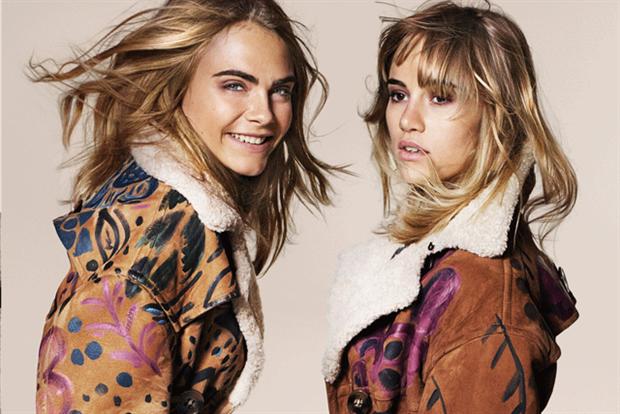 Underlying retail sales in the three months ending 30 June 2014 were up 17% compared to the same period last year, when sales were £339m.
Burberry attributed the strong performance - during a period it said was historically the smallest for retail - to digital's ability to "outperform in all regions, reflecting more targeted marketing and continued strong customer response to services such as orders taken on iPads in-store and collect-in-store".
While online sales stood out, offline behaviour "remained soft", the brand said. Its online sales performance contrasts with that of Marks & Spencer, which earlier this week blamed lacklustre online quarterly sales on the bedding-in of its new website.
But the British fashion brand warned that future sales could be hit by "increasing currency headwinds".
Burberry is also experiencing stronger growth outside the UK and Europe. Sales in Europe only achieved single-digit growth, while revenue growth was double-digit in Asia and the Americas, and particularly strong in China and Hong Kong.
Christopher Bailey, Burberry's chief creative and chief executive officer, said: "This first quarter performance reflects our focus on striving to give customers the best possible experience of the Burberry brand through ongoing investment in retail, digital and service, both on and offline.
"The 12% increase in comparable sales demonstrates our teams' success in unlocking the benefits of these investments, as we continue to concentrate on the things we can control in an uncertain external environment."
This May, Burberry posted "record sales and profits" in its preliminary annual results, as revenues grew by 17% to hit £2,330m. The brand's adjusted profit before tax rose 8% to £461m and its reported profit before tax was up 27% in the year to 31 March.
In June it launched an ad campaign shot by Mario Testino and featuring the models Cara Delevingne and Suki Waterhouse.