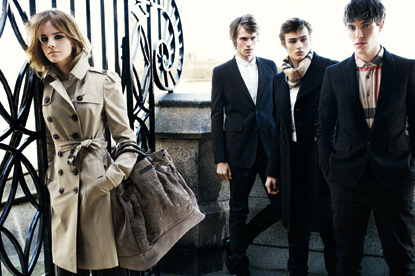 The agency picked up the business following a pitch against a number of undisclosed agencies.

BBH will now handle all strategic duties for Burberry. The agency has also been briefed to develop the com-pany's digital presence with particular emphasis on digital communications, social media and mobile.

However, all creative work for Burberry will continue to be handled by the in-house creative department, which is run by Christopher Bailey, the creative director of Burberry. He will remain responsible for the company's overall image and branding.

Jon Peppiatt, the deputy chairman of BBH, said: "Burberry is the most iconic British luxury brand with a global reach and an acute understanding of the power of heightening its brand experience via digital, mobile and social community platforms.

"There is huge opportunity in the luxury sector for those who understand the opportunities that new media provides in brand-building and business growth for the future."

Burberry's most recent work, a press campaign for its autumn/winter range, stars Emma Watson, who plays Hermione Granger in the Harry Potter films.

The campaign was created in-house and was shot by Mario Testino in Westminster.

Burberry was founded in 1856 and is listed on the London Stock Exchange. Globally, the company has 119 retail stores, 47 outlet stores and 81 franchise stores.

On 31 March 2009, Burberry reported an annual turnover in excess of £1.2 billion.