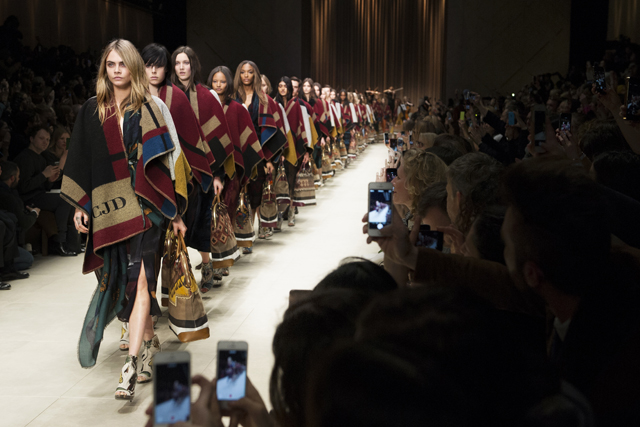 WeChat is a mobile-based social network through which users can call, text and share content, as well as opt-in to receive bespoke content from brands. Burberry followers will be able to view its London Fashion Week AW14 Womenswear show and personalise a digital version of pieces from the catwalk, which can then be saved or shared with friends.
In doing so, users will also be able to unlock exclusive audio content of a senior member of the Burberry design team explaining the inspiration behind the collection.
Additionally, users will be able to text Burberry to receive behind the scenes images, video and audio that tracks the show from the perspective of two front row guests, including Chinese actress Angelababy. WeChat users were able to follow Chen Kun's show experience during the AW14 Menswear show in January.
Burberry is well known for being among the first to embrace new social media platforms; under former CEO Angela Arehndts' leadership the brand launched on Instagram, created website-cum-social network Burberry World and began live-streaming its runway shows online.
Burberry first launched on WeChat last August ahead of its Art of the Trench online ad campaign in Shanghai. Photographer Trunk Xu was commissioned to photograph residents of the city in their Burberry trenchcoats, with the images published in an online gallery and an exhibition at Burberry's K1 and L'Avenue stores.