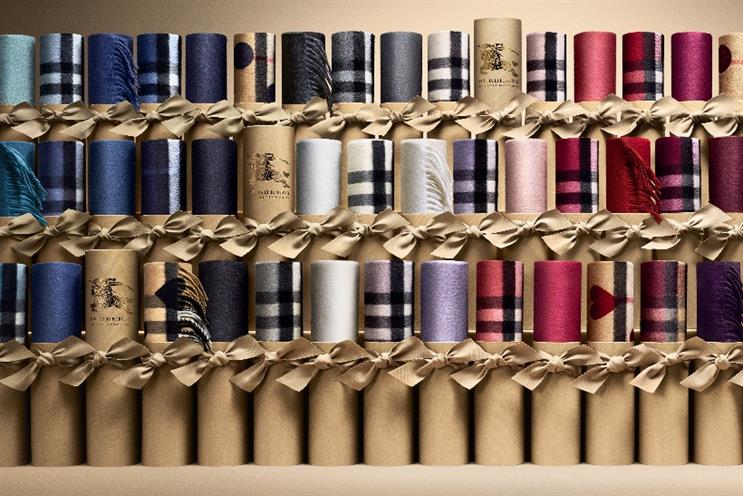 Adjusted profit before tax for 2016 fell 10% to £421m, higher than the 7% drop predicted by analysts earlier this week.
Underlying revenue was flat at £2.5bn. Full year profits for 2017 will be the lower end of analyst expectations, the company said.
The global luxury market remains extremely challenging, the company said, pointing to declines in Hong Kong in particular.
The market accounted for 9% of Burberry's wholesale revenue, but was affected by "significantly lower footfall". Burberry said a priority on sales and customer focus meant its Hong Kong stores remained profitable, but the market dented Asia Pacific sales nonetheless.
Globally the luxury market has grown 7% year on year, but this is likely to drop off in the next five years. Burberry is nonetheless looking to new and existing Chinese consumers and tourists for future growth.
The brand predicted a boom in e-commerce, noting that luxury shoppers now sought "greater authenticity", better service and more tech.
Burberry focuses on bags
Burberry will be tightening up its product lines, noting that its range is wider than luxury rivals. Having relaunched its trenches and scarves, boosting bag sales will be the focus for this year.
The company plans to up its focus on digital, relaunching Burberry.com and will launch its first mobile shopping app.
Christopher Bailey, Burberry's chief executive and chief creative officer, is under growing pressure to hand off some commercial duties to a new hire. Industry observers have noted the exodus of creative and design heads from luxury brands, blaming commercial pressure.
In a statement, Bailey said: "While we expect the challenging environment for the luxury sector to continue in the near term, we are firmly committed to making the changes needed to drive Burberry's future outperformance, underpinned by strong brand and business fundamentals."