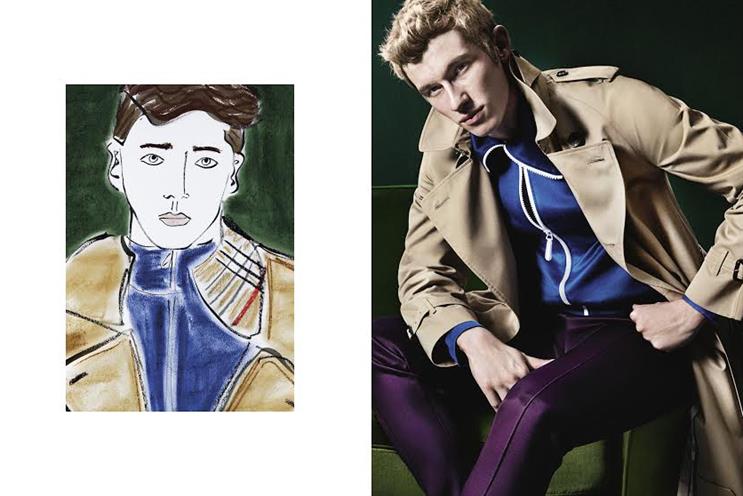 The campaign, which launches today, combines original illustrations by British artist Luke Edward Hall, with portraits by renowned photographer Mario Testino.
Hall, described as a "26-year-old wunderkind" by Vogue, produced a series of original portraits and still life illustrations for Burberry, which features its Patchwork Bag product. No two styles of the bag are the same and each one is individually named after a British town or street.
The artist's work will also be displayed at Burberry's flagship store in London's Regent Street from 11 June until the end of the month.
The print and outdoor campaign showcases Burberry's January and February 2016 collections for men and women and is the first to feature the brand's new single "Burberry" label, which replaces "Brit", "London" and "Porosum".
The work also reunites model Edie Campbell and actor Callum Turner for their second outing together for Burberry.
Campbell made her debut for the fashion brand ten years ago, while Turner first featured in a Burberry ad in 2011.
Christopher Bailey, the chief executive and chief creative at Burberry, said: "Luke is a great talent and it has been wonderful working and collaborating with him on our campaign.
"His beautiful illustrations next to Mario's powerful photographs capture the artisanal spirit of the collection."