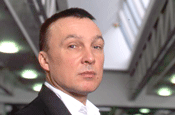 The merger, which is part of an ongoing restructuring programme at the broadcaster designed to deliver £100 million in savings, will see the creation of a new unit of around 40 people led by Channel 4's network creative director, Brett Foraker.

While the move will deliver cost savings as part of a programme to shed up to 150 jobs, it will also offer a more integrated service to Channel 4 and external clients.

4creative is responsible for off-air marketing for the Channel 4 brand and creates advertising for external clients. The creative services team previously handled Channel 4's on-air channel branding and promotional activity.

Burdett, who joined 4creative in 2003, is leaving without a job to go to and will pursue other projects.