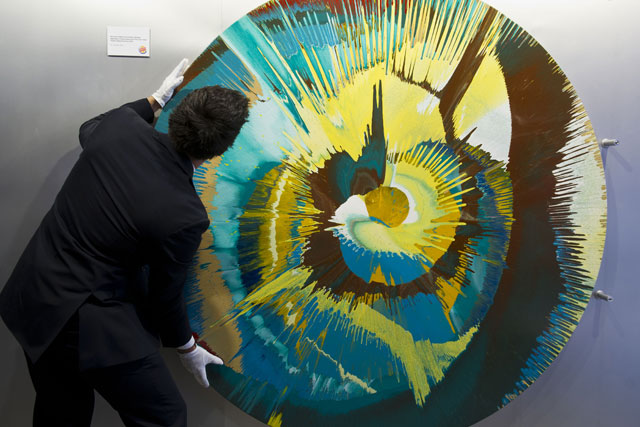 The Whopper-maker expects thousands of visitors to view the artwork for free, during what Burger King is labelling "Britain's biggest summer of sport".
The work has been installed and will be on display until at least the end of the year.
Hirst's loan of the artwork to Burger King is a big coup for the brand, as it attempts to achieve cut-through as rival McDonalds blitzes the public with marketing messages as part of its sponsorship of the London 2012 Games.
The full name of the piece is 'Beautiful Psychedelic Gherkin Exploding Tomato Sauce All Over Your Face, Flame Grilled Painting 2003'.
Burger King claims the last part of the name is particularly apt, given the fact it flame-grills its beef burgers, a cooking method it often draws attention to in its advertising.
The art has been created using a technique called "spin painting" and measures two metres in diameter.
It will be displayed in the upstairs dining area of the 200 -eat restaurant, protected by reinforced glass.
The Leicester Square 'Flameship' restaurant has been redesigned to showcase the brand's flame-grilling cooking method.
Jo Blundell, Burger King UK marketing director for UK and Ireland, said: "Our new Flameship restaurant marks a period of continued growth and innovation for the Burger King brand.
"All of our new-look restaurants will provide a more modern experience to enjoy the great taste of our flame-grilled burgers."
Leicester Square franchisee Django Fung is a personal friend of Hirst, according to the brand.
Fung said: "I love the novelty of Damien's artwork being in such an unexpected place. Art should be accessible to everyone, especially in such a busy summer, and putting this painting in our new-look Burger King restaurant in such a high-profile location does just that."
Follow Matthew Chapman at @mattchapmanUK