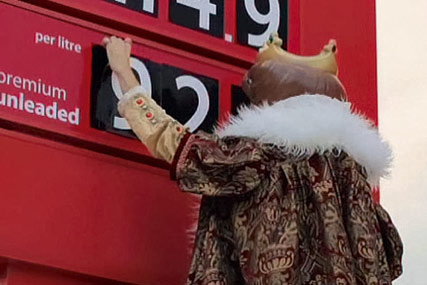 Agencies were contacted by the company last week with a request for information, and a pitch for the local business is expected to take place after Easter.
The US-based agency Crispin Porter & Bogusky had held a global relationship with Burger King for the past seven years, and was responsible for handling the company's UK advertising as well as its work in North America.
After Burger King split with the agency it was expected that it would look for another global agency to directly replace Crispin Porter, however the new pitch indicates that a separate agency will now be used for its UK work.
At the end of last year, Crispin Porter was responsible for introducing The King, its 50-year-old US mascot, to the UK for the first time. A 60-second TV spot saw the King gathering people from around the UK and leading them to Burger King stores.
Despite a major PR push, which also saw The King take part in a tour of major British cities, the character has struggled to make the same impact in the UK as it has done in overseas.
Burger King has built a reputation in the Us for running innovative work such as the "Subservient Chicken" campaign, which allowed users to control a person dressed in a chicken suit, and "Whopper Sacrifice", which rewarded people with a free Whopper every time they "sacrificed" 10 friends on Facebook.