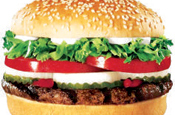 The chain's product development and innovation department is in the process of sourcing ingredients for the burger. It is likely to contain wagyu beef and foie gras. It is set to launch next month in a limited number of outlets in upmarket central London locations.
Burger King came up with the idea after Selfridges ditched an £85 sandwich it had served, containing black truffles and rare brie cheese. It plans to match or exceed this price.
The driving force behind the initiative is to promote Burger King's offering as more premium than that of McDonald's.
This year it intends to position itself as a casual dining outlet and has taken inspiration from US themed chains such as TGI Friday's. It plans to roll out a number of exotic burgers using ingredients such as tiger prawns, steak and guacamole.