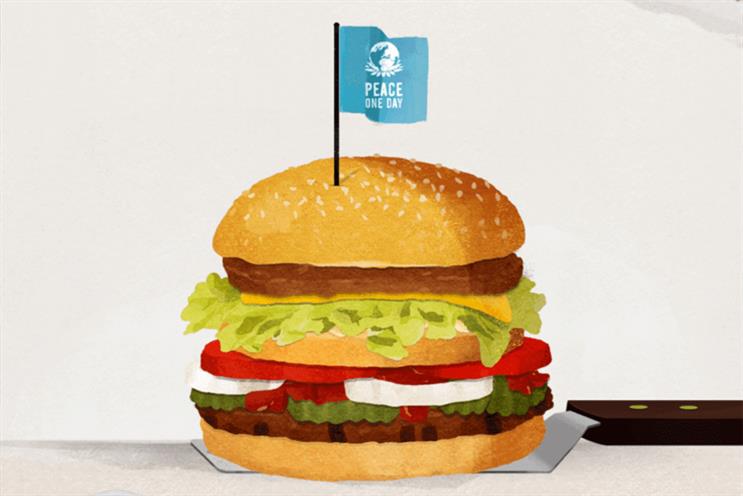 The mash-up of Burger King's Whopper and McDonald's Big Mac would be created with ingredients from each chain to raise awareness of the day of global unity on 21 September.
Burger King proposes to create a purpose-built restaurant in Atlanta, Georgia in the US, halfway between the chains' headquarters.
Fernando Machado, senior vice president for global brand management at Burger King, said: "Our proposal is designed to generate the most attention and awareness possible for Peace Day and the work of the non-profit organisation Peace One Day."
"We're being completely transparent with our approach because we want them to take this seriously. It would be amazing if McDonald's agrees to do this. Let's make history and generate a lot of noise around Peace Day."
"If they say no, we'll hopefully have, at the very least, raised much-needed financial support and consciousness for the great cause that is Peace One Day. And both are well worth the effort."
Steve Easterbrook, the chief executive of McDonald's, issued a lukewarm response on the company's Facebook page this afternoon.
He said: "We love the intention but think our two brands could do something bigger to make a difference. We commit to raise awareness worldwide, perhaps you'll join us in a meaningful global effort?
"And every day, let's acknowledge that between us there is simply a friendly business competition and certainly not the unequalled circumstances of the real pain and suffering of war.
"We'll be in touch. Steve, McDonald's CEO. P.S. A simple phone call will do next time."
Non-profit organisation Peace One Day is a key advocate of International Peace day.
Jeremy Gilley, Peace Day's founder, said: "This proposal from Burger King is the corporate sector at its best. Coming together, putting their differences aside and saying 'come on, let's do something to manifest a more peaceful, sustainable world'."