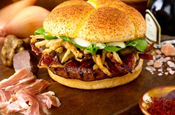 It will be called THE Burger and goes on sale on June 19 at the chain's Gloucester Road branch in west London. After that it will available by phoning a hotline.
The plan by the burger chain to launch a luxury burger was revealed exclusively by Marketing (23 March). Its ingredients include Wagyu beef, white truffles, champagne onion straws and Pata Negra ham from purebred acorn-fed pig.
All proceeds from the sale of THE Burger will be donated to Help a London Child.