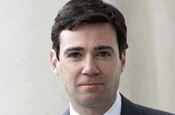 Burnham, speaking at the Internet Advertising Bureau's Engage conference on Wednesday (12 November), outlined his support for self-regulation and pledged to do more for advertising, which he described as a "great British industry".

Reacting to Burnham's speech, Nick Stringer, the head of regulatory affairs at the IAB, said: "We recognise the importance of balancing online creativity and innovation with the need to protect consumers.

"The IAB welcomes the Secretary of State's emphasis on self-regulation in delivering that balance."

While Burnham argued that "safeguarding children continues to be a concern" online because there is no equivalent of the television watershed, he said that he recognised the importance of advertising in supporting quality content that is comfortable for parents.

He said: "Government is moving away from thinking online is ungovernable. We are in a period when we need to establish societal norms. I don't think we are there yet, we'll get there in a self-regulatory way.

"The stakes in the ground are not quite there, that is something that we need to address together."