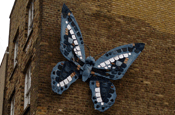 The campaign is the first ever global campaign the brand has run, and the outdoor part includes a series of butterflies made from jeans.

The seven models will adorn the side of buildings until next week.

The artist which created the ads, Jay Jay Buridge, said: "I wanted viewers rushing past to understand it at quick glance and passers by on foot to scrutinize it in the same way they may actually do in a museum or a gallery."