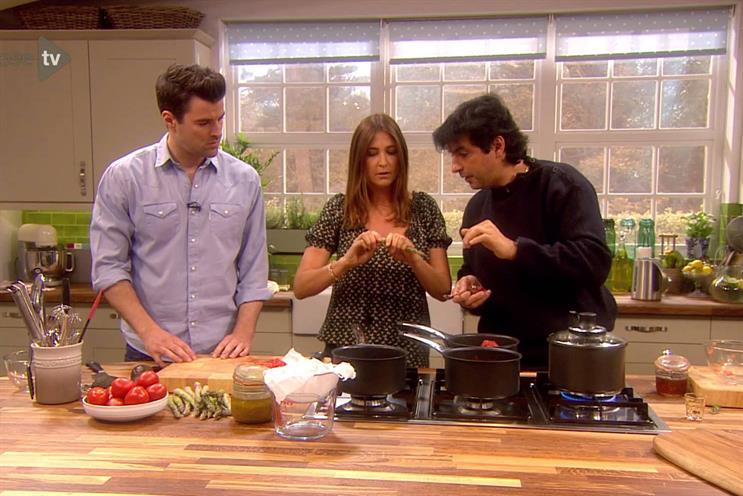 A 30-second ad can still do a great job, but advertisers have never been hungrier for more exposure and brands are increasingly pushing the boundaries on what they want from advertising.
So Channel 4 is making a proactive move around advertiser-funded programming (AFP) by inviting ideas from brands, media agencies and production companies at a briefing today (Thursday) at its Horseferry Road offices.
"Our vision as a sales team is to do as much as possible," Jonathan Allan, the sales director at Channel 4, says. "Spot advertising is still a core part of our business as it brings in 90 per cent of our revenue but, to be a good partner, we need to have more depth to our offering and be able to work with advertisers and agencies to create something more on top."
The broadcaster hopes its work with Weekend Kitchen With Waitrose, its biggest AFP to date (its second series got 168,000 views), will prove a catalyst. It has also seen success with Shorts, a series of short sponsored content for its on-demand platform, 4oD. Shorts launched in June last year and received more than three million views in 2014.
Allan adds that it is now easier to produce AFP for linear TV as the cost of creating content has declined and the broadcaster has more scope in terms of the channels it can offer, including Channel 4, E4, More4, 4Music and 4oD.
"Historically, there has been a number of challenges as broadcast content is expensive," he says. "Also, we need the content to be very clean editorially, so we're not going to do ad-funded content that is just an ad for the brand. It needs to rate for us and our advertisers. And you need a bloody good show to get on the schedule."
Chris Locke, the managing director at VivaKi, explains that it is essential to get all the elements of AFP right or a brand will end up with their show on at 1am: "I think AFP is a trick of the light because you have to get the show on somewhere good on the schedule. It's got to look like good content and, if it's too ad-focused, then it works against the broadcaster."
The AFP briefing is the first time programme commissioners at Channel 4 have brought together media agencies, clients and independent production companies to discuss what kind of shows they are looking for. Content under discussion includes daytime programming and ideas for sport- and music-themed shows.
It's a way of drumming up ideas for AFPs – and Simon Wells, Channel 4's controller of funded content, believes client briefs "very often stimulate great editorial ideas".
Of course, when working with brands to come up with shows, there can be disagreements over what kind of programme Channel 4 believes will deliver the target audience share. But Wells is adamant that the message is "loud and clear" at the briefing: the broadcaster wants to work with brands but it won't air something that it thinks won't bring in audiences.
However, Locke is not convinced that asking advertisers for AFP ideas is necessarily a good thing: "You can ask advertisers for ideas but I also think that's Channel 4's job." But, given the range of lifestyle shows Channel 4 has, he believes the broadcaster has plenty of opportunities for more AFPs.