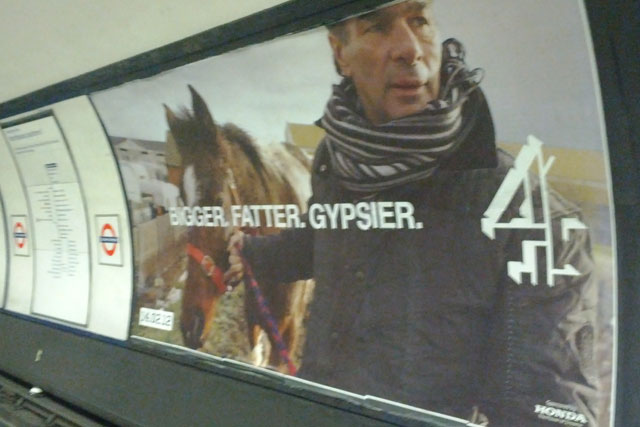 An outdoor and press campaign to promote 'Big Fat Gypsy Weddings' uses photographs of the travelling community (including two small boys and, separately, dressed-up girls) and the tagline 'Bigger. Fatter. Gypsier'.
A spokesman for the ASA said the general nature of the 56 complaints is that the ad is offensive to gypsies, with some people, but not all, raising concerns about the use of the word "gypsier" which they believe is racist.
The ASA has not begun a formal investigation but is considering the issues raised.
Yesterday representatives from the London Gypsy and Traveller Unit (LGTU), which describes itself as a support body for the community, went to Channel 4's Horseferry Road headquarters in central London to hand in a petition containing 27 signatures against the marketing campaign.
A spokeswoman for Channel 4 said: "The advertising campaign builds on the celebratory nature of the first series of 'Big Fat Gypsy Weddings'.
"It is a take on the well-established programme title which in itself is a spoof of the title of a well-known Hollywood film. Everyone featured in the series is from the travelling community and refers to themselves as gypsies.
"The word 'gypsier' refers to the fact that this series offers even greater access and insight to the communities featured, and the terms 'gypsy' or 'gypsier' are not being used in a negative context."
The LGTU objects to the use of the word "gypsier" in the poster and also what it said was the hurtful and damaging promotion of a stereotype of alluring girls and young woman and menacing young men.
The Channel 4 spokeswoman said: "Everyone featured in the campaign has seen the posters and is happy with them.
"All images were taken with full consent and we are confident that all aspects of the poster campaign fully comply with ASA guidelines."
A peak of 6.5 million viewers watched the return of 'Big Fat Gypsy Weddings' for a second series on Channel 4 last night, making it the broadcaster's highest-rating show so far this year.
Follow Maisie McCabe on Twitter @MaisieMcCabe