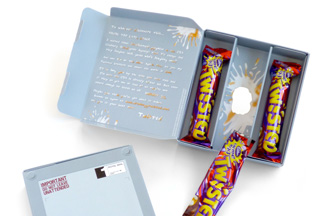 Developed by agency CMW, the campaign has launched with a direct mailing 'security strongbox' sent to hardcore 'Goo' fans who talk about the brand on social networking sites.
The box contains Twisted bars, but there is also an empty wrapper amongst the bars and a hole in the bottom where one has escaped. The recipient is then challenged to become an agent of the Cadbury's Intelligence Agency and track down the escaped bars. Online ads will also direct potential agents to the site.
Visitors to the www.cremeeggtwisted.com website can sign up as agents and are tasked to track down Twisted bars. CMW uses a Google Maps mash-up and clues via a Twitter feed to the website to locate up to 16 targets, which have been ear-marked for a 'gooing'.
Up for grabs is a luxury holiday in Morocco, and for the top ten agents, a cash prize of £20,000.