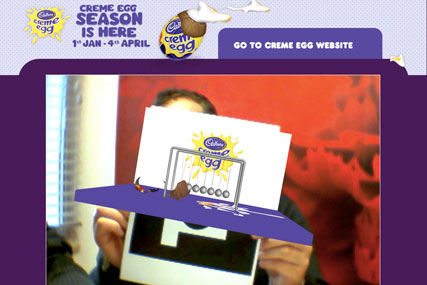 Following the TV ad for Crème Egg, the interactive game will enable fans to have a 'goo' at launching the egg into a Newton's Cradle.
Players have to download and print out a PDF marker card which, when held in front of a webcam, will project a virtual card onto the computer screen with a Creme Egg and Newton's Cradle superimposed on it.
Created by agency CMW, the game then enables users to watch as the Creme Egg rolls around the card before launching itself into the Newton's Cradle.
Users are encouraged to 'goo' again or enter the online competition to be in with a chance to win one of the daily prize giveaways or the grand prize of a trip to New York
In addition, Cadbury's has launched an interactive 'guess-the-celebrity' Goo Am I? game on Facebook. The brand will also launch a free-to-download Creme Egg app.