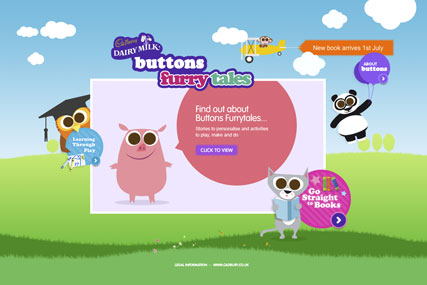 The brand has launched an online activity workshop designed for mums and children called "Buttons Furry Tales" (www.buttonsfurrytales.com), created by Drum PHD.
The website, which asks visitors for a date of birth and warns that an adult must be in supervision, allows users to personalise their own storybooks for children. Visitors can interact with the stories and animated characters, as well as engage in activities such as colouring and puzzles.
Books on the site aim to put children at the centre of the story and users can create their own animated avatars, which then become part of the narrative. The activities and stories have been created in collaboration with an occupational therapist to help promote child development.
The new content will be promoted online and on-pack, avoiding curbs on advertising products high in fat, salt or sugar. Ofcom announced in July that it is to keep the current ad restrictions on HFSS products during children's airtime and around programmes with a disproportionately high child audience.
The Buttons activity follows Cadbury's recent launch of its Spots v Stripes initiative through Fallon, designed to support its sponsorship of the 2012 Olympic Games.